In a tight race that came down the wire, Colorado voters approve Measure 122 to decriminalize small amounts of psychedelic drugs
With 95% of the votes counted, the race has been called and Colorado has become the second state in the US after Oregon to decriminalize the use of psychedelics. The latest vote totals show a clear  win for Colorado's Proposition 122.  Under the new law, possession of small amounts of most entheogens will no longer be considered a criminal offense. Instead, it will be treated as a civil infraction.
On November 11th 2022, voters in Colorado have finally decided to join Oregonians in leading the metamorphosis that will bring a much needed change to U.S. laws and perhaps worldwide. Approximately 52.7% out of 2,289,252 voters supported Proposition 122, also called the Natural Medicine Health Act of 2022, which will categorize psilocybin and psilocin as natural medicine and will open the door to other psychedelic treatments.


Image source: New York Times
The counties who largely contributed to the positive outcome were: Jefferson, Arapahoe, Larimer, Denver, Adams and Boulder, whereas El Paso, Douglas and Weld played a large role in evening out the polls.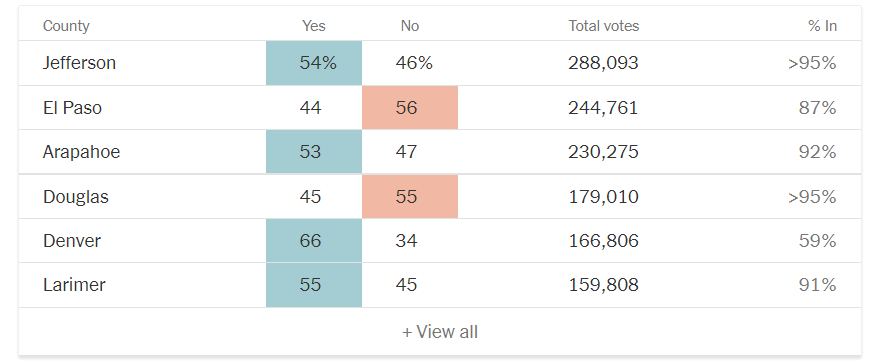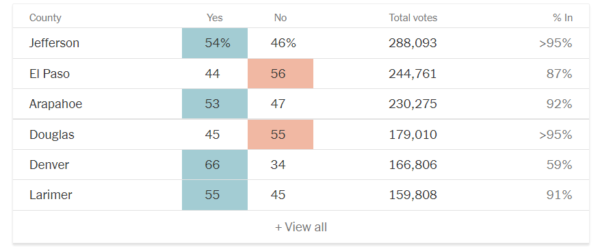 To see results by county, click here.
What We Need to Know About Colorado's Psilocybin System
Measure 122 will immediately decriminalize the personal use, transport and growth of psilocybin and psilocin, the active ingredients found in magic mushrooms, for adults 21 and over and will create approved healing centers with trained facilitators to provide these natural medicines to those in need.
Other psychedelics such as DMT, ibogaine and mescaline (excluding peyote) will be added to the list come 2026.
Will this affect people with past convictions? Yes. Those with past convictions for possession or use of the decriminalized psychedelic substances would be able to request that their conviction records be sealed.
A natural medicine services program for the supervised administration of plant medicines will also be created, similar to Oregon's Measure 109 psilocybin services program.
By 2024, the initiative would be in full effect. Proposition 122 will go into effect Jan. 1, 2024, setting the date for drug testing standards and health/safety warnings to be put into place. On Sept. 30 of that year, licensed facilities will begin being able to administer psilocybin to those in need.
Measure 122 was sponsored by Natural Medicine Colorado, which is almost entirely funded by New Approach PAC, a special interest lobbying group funded by Dr. Bronner's Magic Soap, the Van Ameringen Foundation, Scotts Miracle-Gro, Tilray Inc, and others.
Joshua Kappel, Proposition 122 co-author and drafter and Chair of Natural Medicine Colorado had a lot to say:  "After such a contentious campaign, it's a relief to know that the people of Colorado believe in Prop 122 and the hope of healing these natural psychedelics can provide for those with PTSD, treatment resistant depression, trauma and other mental conditions."
"History has been made today," he continues. "We proved to the world it's possible to pass a ballot measure that not only provided access to natural psychedelic assisted therapy in a state regulated setting but also protects individual and community-based healing modalities from arrest and many civil offenses without state regulation. Many told us that this dual approach was not wise or possible. Today, we showed that inclusive and equitable policies are not only necessary but politically viable.
Now the real work begins. Implementing Prop 122 successfully will require an inclusive stakeholder process to ensure that we create a program that is safe, equitable, and provides the healing modalities Colorado and our broader psychedelic community is expecting."
What's Next?
Now that Colorado has taken this historic step forward, other states are sure to follow suit. Oregon was the first state to decriminalize psychedelics, and since then, several other states have introduced similar legislation. It's only a matter of time before more states join the ranks and start moving towards sensible drug policies that are based on science instead of fear.
The initiative comes a decade after Colorado voted to legalize recreational use of  marijuana which catapulted the industry with hundreds of dispensaries appearing across the state.
Will this happen with psychedelics? Perhaps? Currently, there are mushroom dispensaries opening left and right in Canada and in the U.S. such as Dana Larsen's Medicinal Mushroom Dispensary, Shroomyz, Professor Seagull's Smart Shop and more.
Will we see more setting up shops in Colorado? Most probably.
But something entirely different may occur. While we were all excited about Measure 122 passing, some might have missed what was happening in Oregon. Although psilocybin services were approved in Oregon statewide last year, this year 4 bills were introduced to prohibit psilocybin services in Clackamas county. Measure 3-590 in Clackamas county, aimed at banning psilocybin therapy in Molalla city, Measure 3-586, focused on prohibiting psilocybin-related businesses within The City Of Sandy, Measure 3-584, aimed at prohibited psilocybin-related business in Estacada, and 3-588, temporarily prohibiting psilocybin-related businesses in unincorporated Clackamas county, all looking to pass with big margins.
Could something similar happen next year in Colorado? It's entirely possible.
All in all, this is an exciting time for psychedelic reform in the United States. With Colorado becoming the second state to decriminalize psychedelics, it's clear that change is happening at the state level. This is a huge step forward in the fight for drug reform, and it's thanks in large part to the hard work of activists and organizers across the country.