Put your psychedelic know-how to the test: can you solve these whimsical brainteasers with heightened mental acuity?
Are you ready to find out just how well you know your psychedelics? We've created 10 psychedelic riddles for your entertainment and enlightenment! Test yourself; are your senses sharpened or enhanced enough to solve these wacky puzzles? There will be laughter and plenty of surprises, so come join us on this journey down the proverbial rabbit hole as we explore some truly far-out riddle solutions. Harvest all the knowledge from this psychedelic experience – buckle up and let's go!
Don't cheat! Try to guess the answer first. Don't worry, you'll find the correct answers at the end!
Riddle #1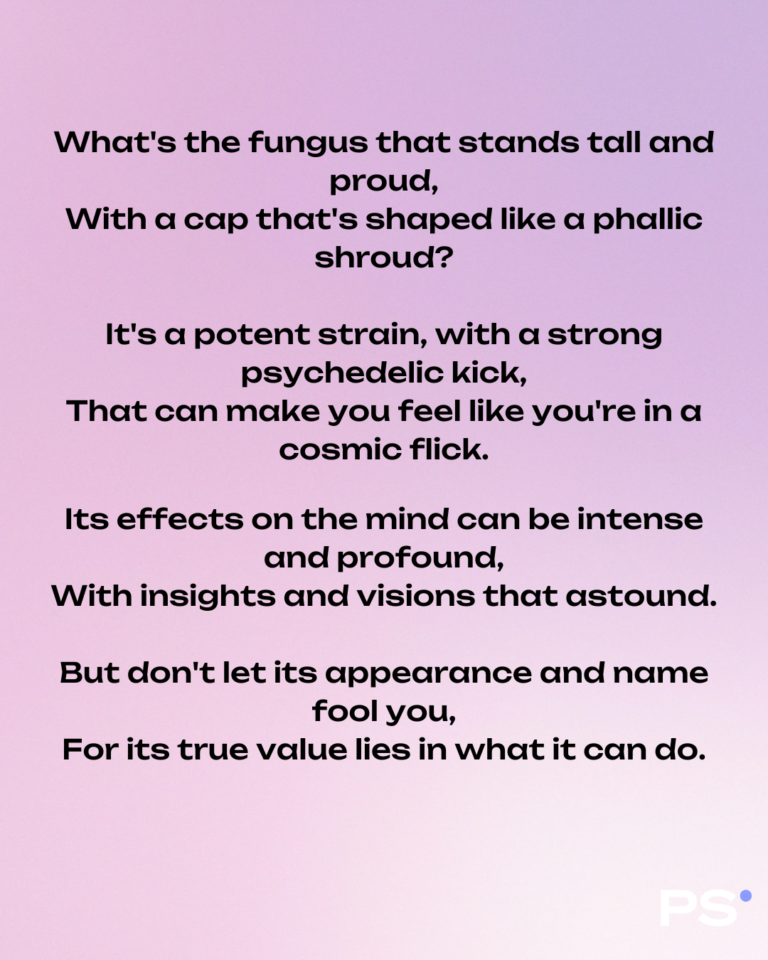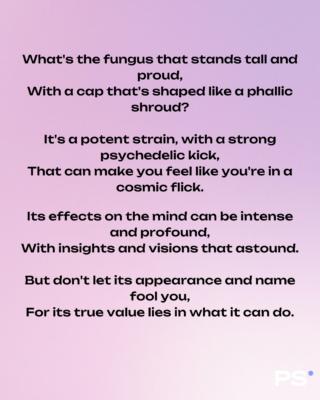 What's the fungus that stands tall and proud,
With a cap that's shaped like a phallic shroud?
It's a potent strain, with a strong psychedelic kick,
That can make you feel like you're in a cosmic flick.
Its effects on the mind can be intense and profound,
With insights and visions that astound.
But don't let its appearance and name fool you,
For its true value lies in what it can do.
It's a teacher, a guide, a mystical ally,
That can show you a world beyond the ordinary.
Answer:
Riddle #2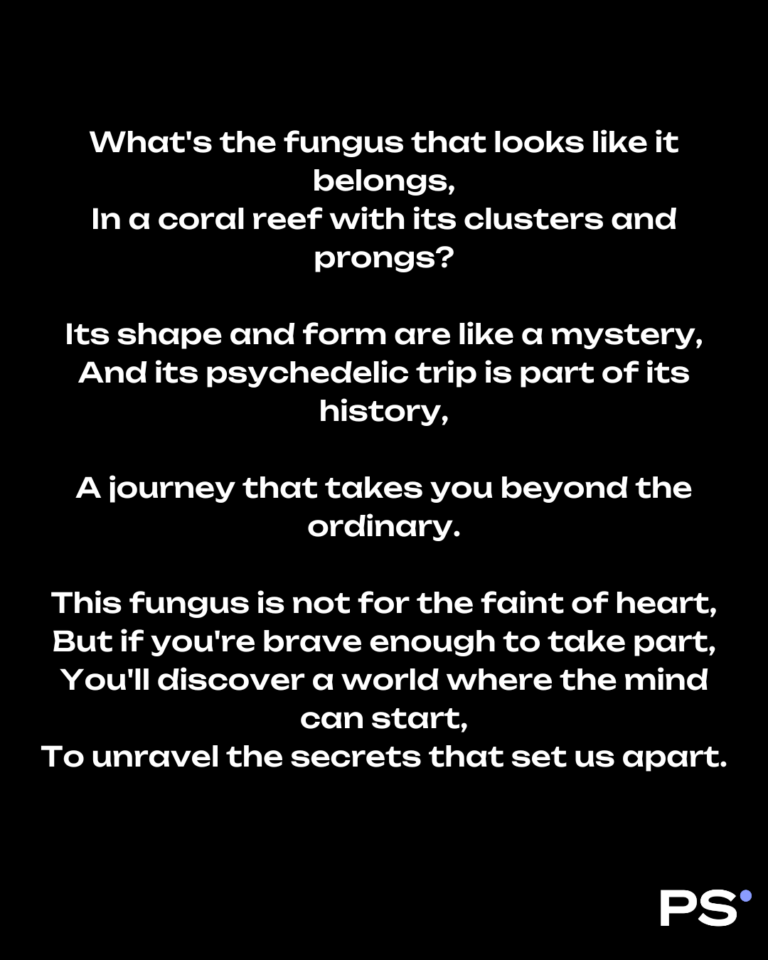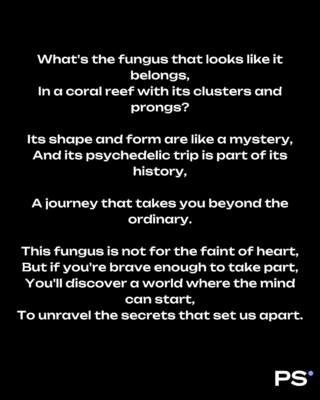 What's the fungus that looks like it belongs,
In a coral reef with its clusters and prongs?
Its shape and form are like a mystery,
And its psychedelic trip is part of its history,
A journey that takes you beyond the ordinary.
This fungus is not for the faint of heart,
But if you're brave enough to take part,
You'll discover a world where the mind can start,
To unravel the secrets that set us apart.
Answer:
Riddle #3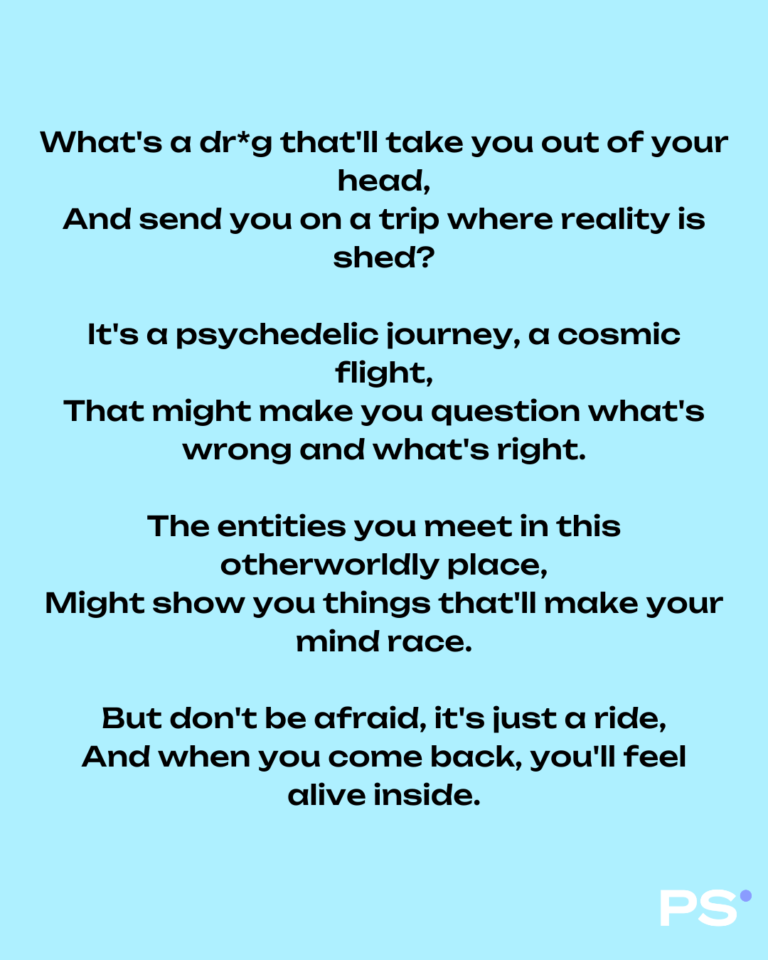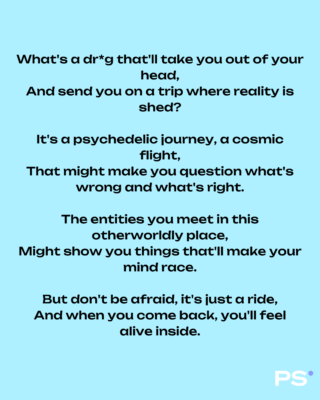 What's a drug that'll take you out of your head,
And send you on a trip where reality is shed?
It's a psychedelic journey, a cosmic flight,
That might make you question what's wrong and what's right.
The entities you meet in this otherworldly place,
Might show you things that'll make your mind race.
But don't be afraid, it's just a ride,
And when you come back, you'll feel alive inside.
Answer:
Riddle #4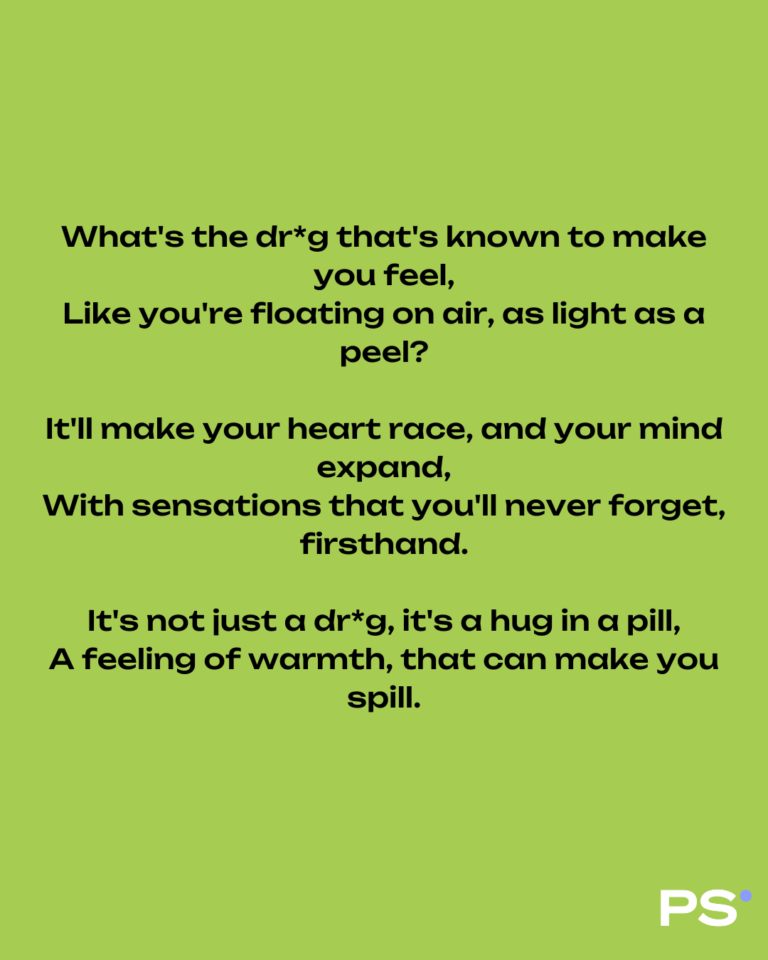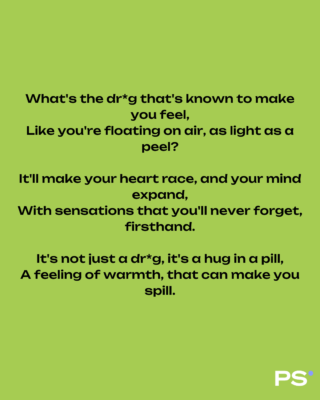 What's the drug that's known to make you feel,
Like you're floating on air, as light as a peel?
It'll make your heart race, and your mind expand,
With sensations that you'll never forget, firsthand.
It's not just a drug, it's a hug in a pill,
A feeling of warmth, that can make you spill.
Answer:
Riddle #5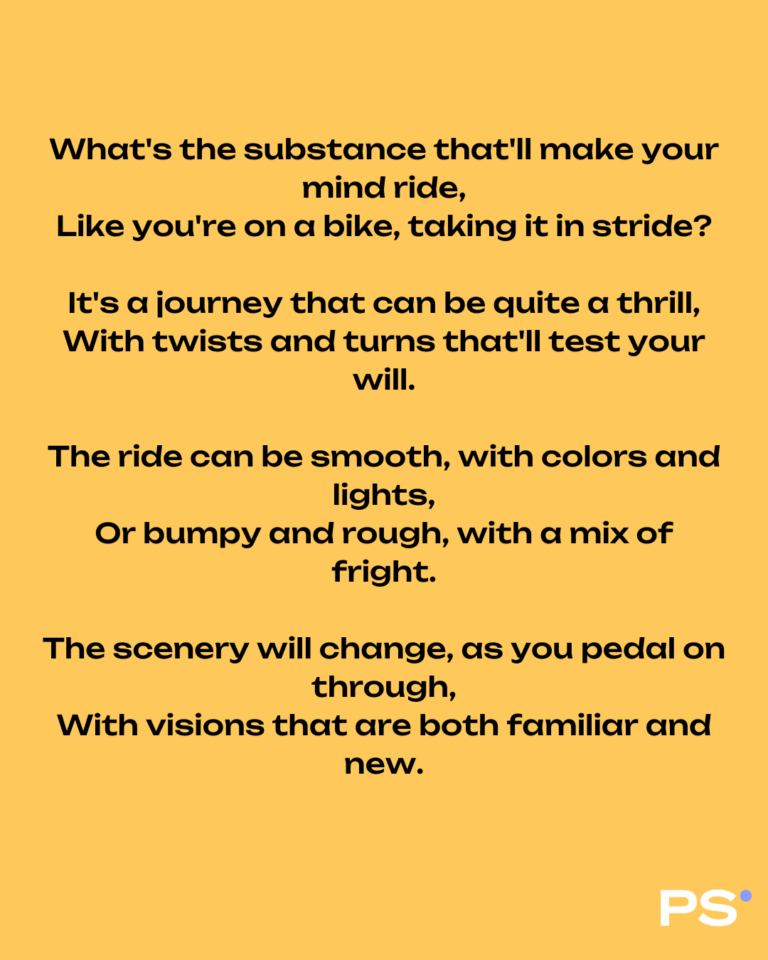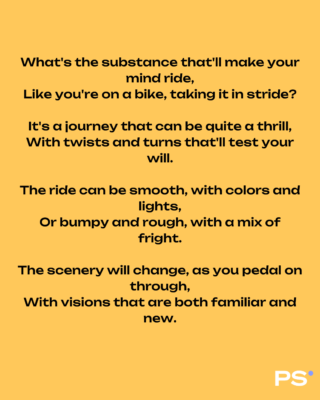 What's the drug that'll make your mind ride,
Like you're on a bike, taking it in stride?
It's a journey that can be quite a thrill,
With twists and turns that'll test your will.
The ride can be smooth, with colors and lights,
Or bumpy and rough, with a mix of fright.
But don't worry, just keep your eyes on the road,
And you'll find that the trip is quite a load.
The scenery will change, as you pedal on through,
With visions that are both familiar and new.
Answer:
Riddle #6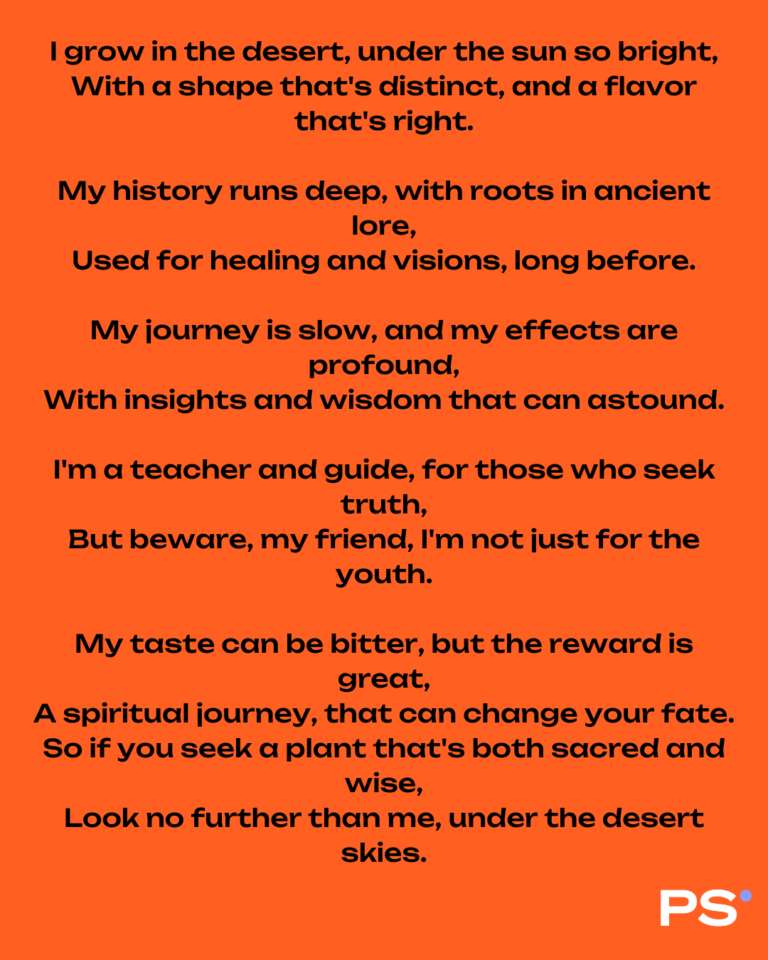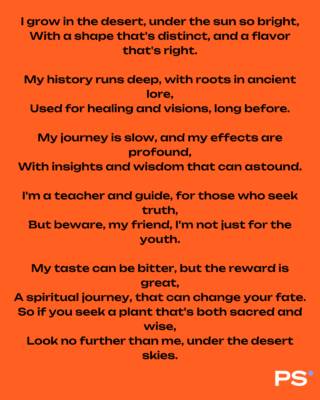 I grow in the desert, under the sun so bright,
With a shape that's distinct, and a flavor that's right.
My history runs deep, with roots in ancient lore,
Used for healing and visions, long before.
My journey is slow, and my effects are profound,
With insights and wisdom that can astound.
I'm a teacher and guide, for those who seek truth,
But beware, my friend, I'm not just for the youth.
My taste can be bitter, but the reward is great,
A spiritual journey, that can change your fate.
So if you seek a plant that's both sacred and wise,
Look no further than me, under the desert skies.
Answer:
Riddle #7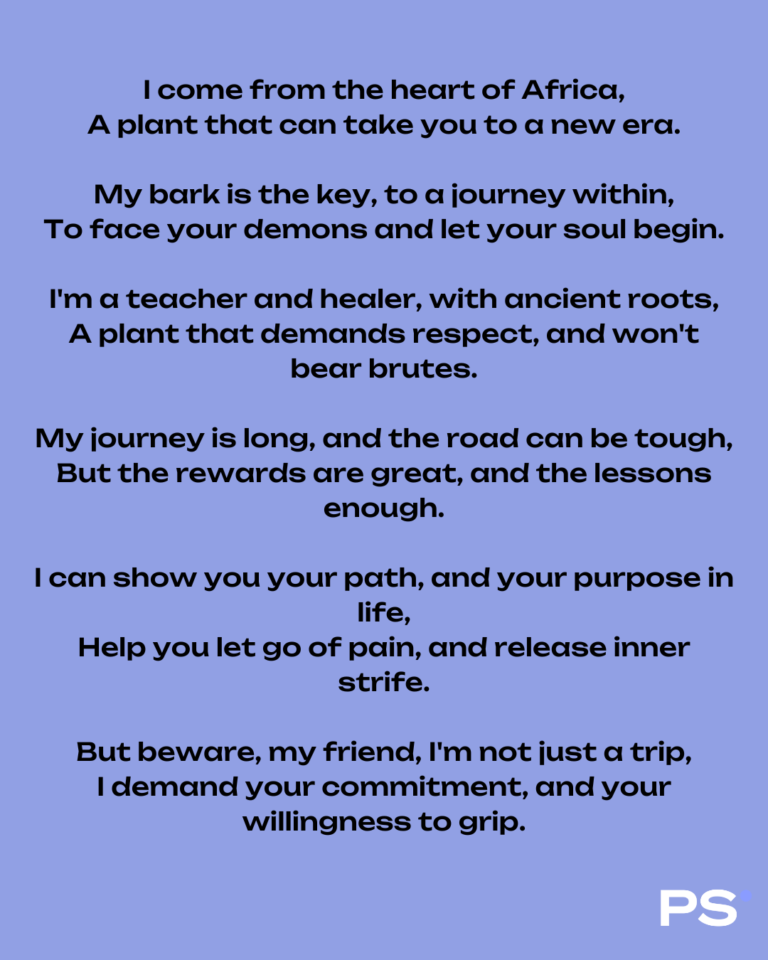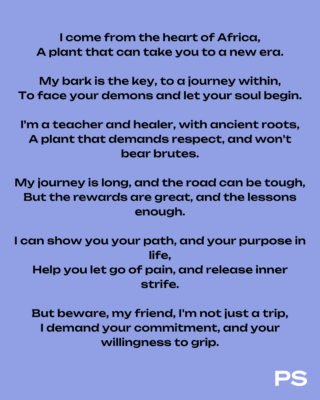 I come from the heart of Africa,
A plant that can take you to a new era.
My bark is the key, to a journey within,
To face your demons and let your soul begin.
I'm a teacher and healer, with ancient roots,
A plant that demands respect, and won't bear brutes.
My journey is long, and the road can be tough,
But the rewards are great, and the lessons enough.
I can show you your path, and your purpose in life,
Help you let go of pain, and release inner strife.
But beware, my friend, I'm not just a trip,
I demand your commitment, and your willingness to grip.
Answer:
Riddle #8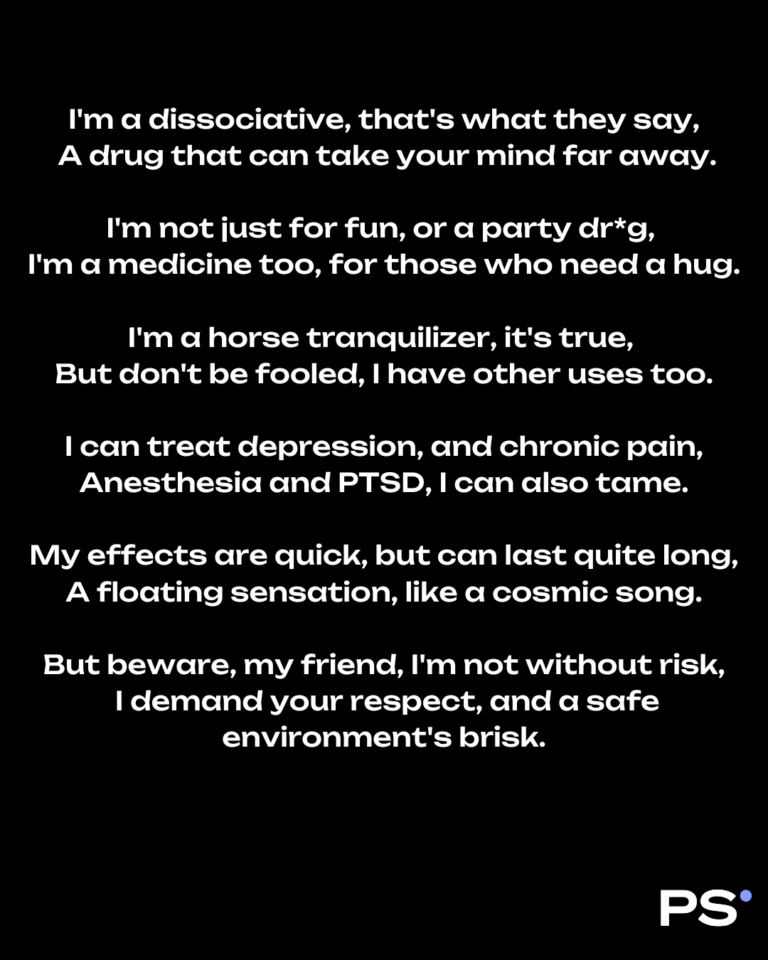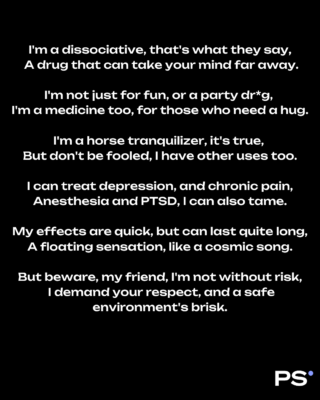 I'm a dissociative, that's what they say,
A drug that can take your mind far away.
I'm not just for fun, or a party drug,
I'm a medicine too, for those who need a hug.
I'm a horse tranquilizer, it's true,
But don't be fooled, I have other uses too.
I can treat depression, and chronic pain, Anesthesia and PTSD, I can also tame.
My effects are quick, but can last quite long,
A floating sensation, like a cosmic song.
But beware, my friend, I'm not without risk,
I demand your respect, and a safe environment's brisk.
Answer:
Riddle #9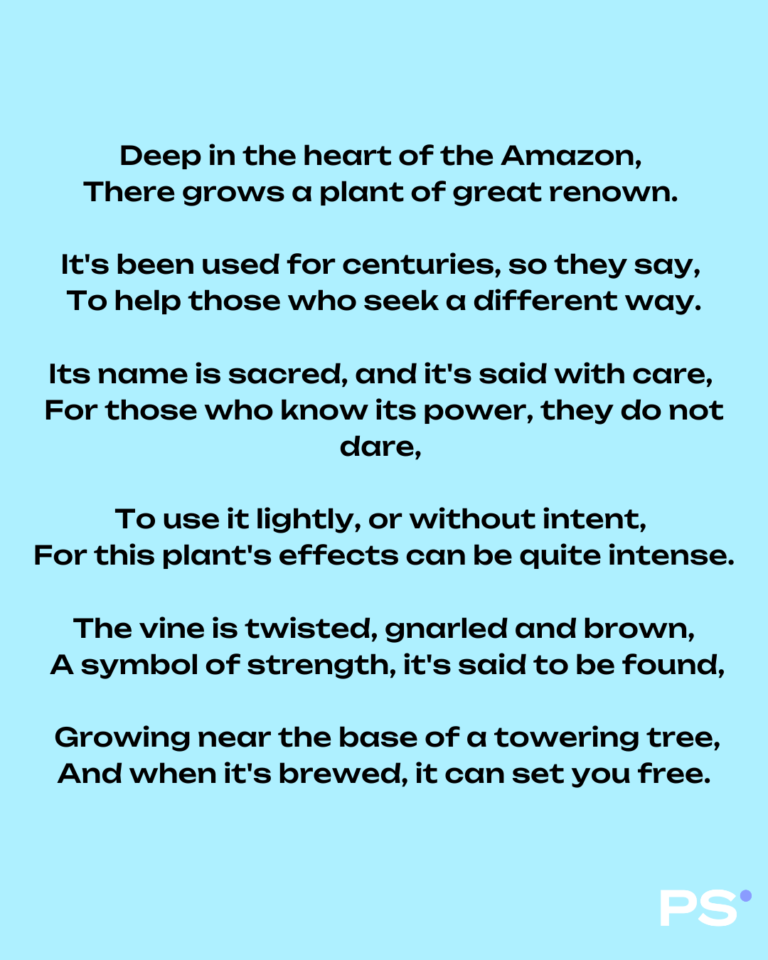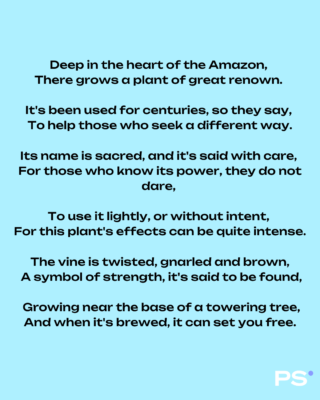 Deep in the heart of the Amazon,
There grows a plant of great renown.
It's been used for centuries, so they say,
To help those who seek a different way.
Its name is sacred, and it's said with care,
For those who know its power, they do not dare,
To use it lightly, or without intent,
For this plant's effects can be quite intense.
The vine is twisted, gnarled and brown,
A symbol of strength, it's said to be found,
Growing near the base of a towering tree,
And when it's brewed, it can set you free.
The leaves are picked with care and skill,
For they contain the magic that can thrill,
The mind and soul, and take you deep,
Into a world that you may not want to leave.
The brew is made with sacred chants,
And when you drink, you might just dance,
With spirits old and new, and see,
The mysteries of life and eternity.
Riddle #10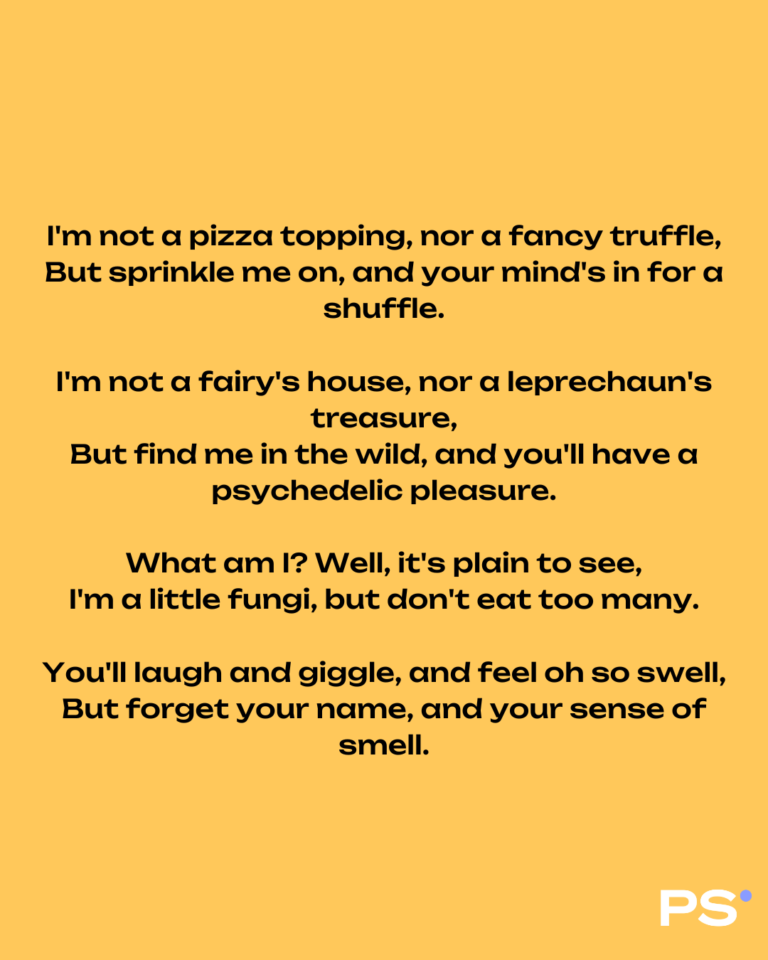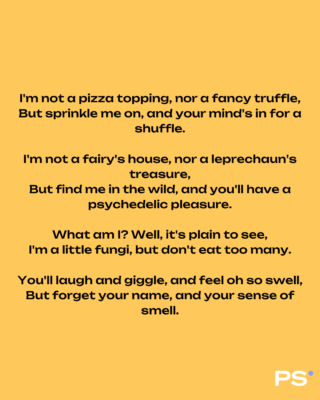 I'm not a pizza topping, nor a fancy truffle,
But sprinkle me on, and your mind's in for a shuffle.
I'm not a fairy's house, nor a leprechaun's treasure,
But find me in the wild, and you'll have a psychedelic pleasure.
What am I? Well, it's plain to see,
I'm a little fungi, but don't eat too many.
You'll laugh and giggle, and feel oh so swell,
But forget your name, and your sense of smell.
Answers:
Penis Envy
Enigma
DMT
MDMA
LSD
Peyote
Iboga
Ketamine
Ayahuasca
Magic mushrooms
Looking for more fun?
Check out the CHATGPT  SIMULATION OF A CONVERSATION BETWEEN DMT, SHROOMS AND LSD.