This Valentine's Day, let us set the mood for romance with some libido-enhancing treats that will ignite passion!
The Valentines Day love-bug has caught us all, and if you're lookin' for a creative (and healthy) way to gift your special someone something that keeps on giving…apoptogenic gifts might be the perfect answer. Adaptogens are natural substances that can target balance in various systems of the body, including in libido enhancement! If your boo needs some extra oomph this year, we've got some libido-boosting adaptogens that will make sure to skyrocket their sex drive this Valentines Day. Keep reading to explore these unique options worthy enough of being any lucky lover's XOXO!
From intimate connection to self-care, 'Netflix and chill' or something in between – sex signifies much more than many recognize. It's not only an indicator of our relationship dynamics but also of our overall health. In this frenetic world that puts a premium on hypoconnectivity, it is too often other, elements which we rely upon to measure our well being: Our appearance. Our vigor and vitality. The number of friends we have or can make. Our most prices possessions. Our success stories and milestones.
However, sex is often viewed as the defining trait of a good relationship while overlooking other important components.
Fortunately, there's a healthy approach to improving your sexual health with holistic supplements that contain adaptogens. With these powerful natural extracts, you can easily obtain better overall sexual wellbeing without any nasty side-effects.
Plant or plant-based products have been used to ignite sexual passion and enrich performance as far back as the beginning of human history. Let's discover 3 libido-boosting treats that will help you reclaim your libido just in time for Valentine's Day.
Libido Gummies – Strawberry & Tangerine
These vegan, gluten-free and low sugar Libido Gummies combine the power of plant-based ingredients like Kanna, L-Arginine, and Maca Root to provide a fast-acting solution for achieving maximum pleasure. Not only will it heighten your sensitivity, erase stress and bring on euphoria – but also create sparks that you won't soon forget.
What is Kanna?
For generations, Kanna has been utilized as an herbal remedy and natural mood-enhancer by South African natives. Its healing powers are well known to the indigenous people of this region who have long kept its secrets in their traditional medicine practices. If you're looking for uplifting effects without synthetic compounds, Kanna is a great choice. Amongst other benefits, Kanna is amongst the most popular libido-boosting adaptogens. Kanna alkaloids have been found to effectively prevent the reuptake of serotonin and inhibit PDE4A, consequently potentially intensifying sexual arousal as well as libido.
This plant is reputed for its serotoninergic, GABAergic, and opioid benefits that are said to boost your mood when taken as a supplement. Furthermore, by taking Kanna you can feel relaxed and warm towards those around you while also experiencing heightened pleasure from touchy-feely moments.
So go ahead and tantalize yourself with these libido enhancing gummies – there's no better time than now to experience a night of unforgettable delights.
Sexy Chocolate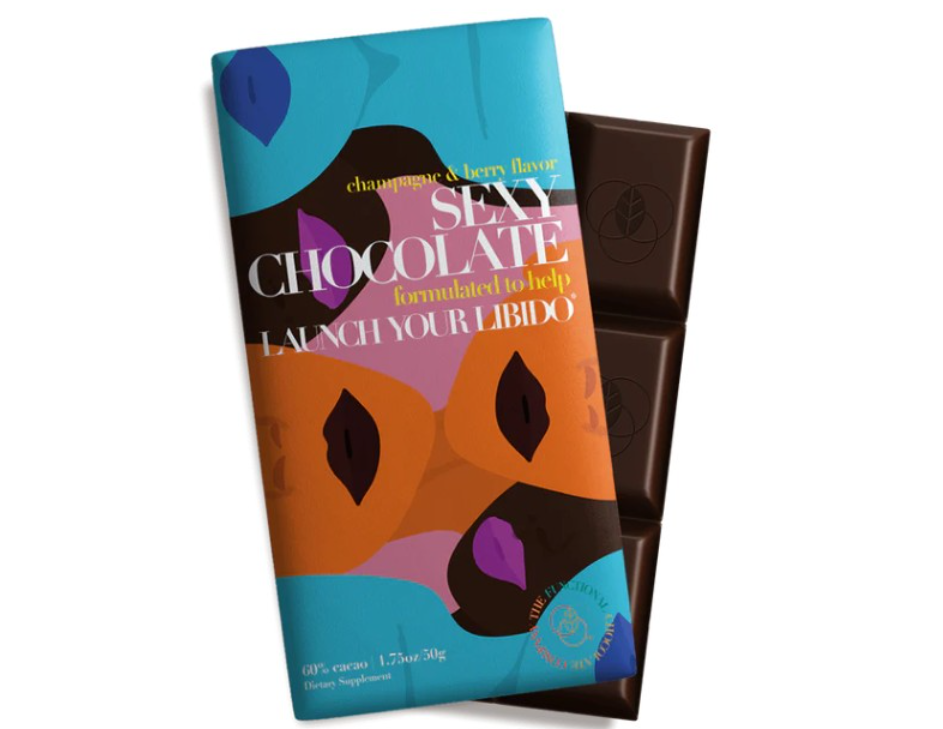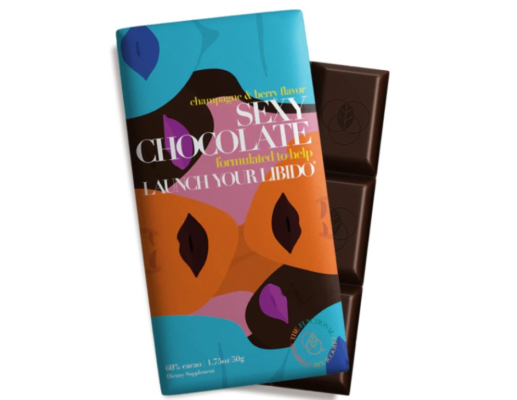 Second in line is the libido-enhancing Sexy Chocolate. This decadent delight can help free your mind and bring you into the present moment. This delicious 60% cacao Natural Champagne & Berry Flavor bar offers an unforgettable taste that is heightened with the added bonus of LibiFem, a patented natural fenugreek extract clinically shown to promote healthy libido, desire, and pleasure.
What is Fenugreek extract?
If you want to heat things up in the bedroom, look no further than libido-boosting adaptogens like fenugreek. Fenugreek  (Trigonella foenum-graecum) is an herb that resembles clover, plus its seeds have a mild maple syrup flavor. These are not just consumed as food but also used in medicine.
For centuries, fenugreek has been hailed as a libido-booster and sexual enhancer. Recent studies indicate that its compounds, such as furostanolic saponins, may raise testosterone levels and boost sexual performance by triggering the release of hormones essential for libido and arousal.
Spicy Rose
This libido-boosting sex-tonic is not your average aphrodisiac. Spicy Rose has gained a loyal fan base for its unique flavor combination of rose mixed with sweet, spicy and gingery chocolate – all the taste, none of the guilt. And let's not forget about the 5,000mgs of adaptogens that will help relax you and nourish your nervous system for an open-hearted connection with that special someone. If you want to add a little spice into your love life, this may be a great option for you and your partner.
Spicy Rose Cacao Rasa offers an extensive mix of libido-boosting adaptogens, such as:
Ginger & Cayenne: Circulatory invigorants that boost blood circulation to the limbs, providing life-giving oxygen and vital nutrients. For centuries, herbalists have used it as a natural stimulant to invigorate sexual drive and increase libido naturally.
Maca: Ah, that old familiar feeling: longing for something we don't quite have. Whether you're pining after a lover or a lost opportunity, desire is an undeniably powerful force. But the real power lies in libido-boosting adaptogens like maca root. Studies have shown that concentrated maca supplements may help those who are struggling with low libido and lack of sexual desire.
In 2015, a study of 45 women suffering from antidepressant-induced sexual dysfunction discovered that supplementing with 3,000 mg of maca root per day for 12 weeks had dramatic effects on their libido and overall sexual function when compared to the placebo group.
Schisandra: In China, this berry is renowned for being amongst the most potent libido-boosting adaptogens because it enables the production of fluids necessary to increase sexual pleasure.  Schisandra chinensis, a wild tree liana native to Northeast China and Mongolia, is little known in our countries.
This special fruit that stimulates all five senses – sight, smell, taste, touch and sound. Eating it acts as an aphrodisiac for both men and women alike. Its power to create sensations of pleasure has made this berry popular around the world over centuries.
All in all, if you're looking for a way to maximize your sex drive this Valentine's Day, these libido-boosting adaptogen-infused treats – containing Kanna, Fenugreek and Maca – may be just what you need.
While taking them, try not to be butterflies in your stomach with anticipation but focus on being beetles in your pants with gratification. That way, you might even truly experience one of the most powerful life changing realizations 21st century humans are capable of: that love is what makes our world go round. So why not skyrocket your libido with adaptogens this Valentine's Day? After all, it could be the first step towards discovering an infinitely deeper understanding of true love – right now and always!