Salem resident and neuroscientist Miyabe Shields said, "This is a win for science and the neurodivergent community to advance life-saving research on the complex innerworkings of our brains."
Famed the most magical city in America, Salem just became the sixth Massachusetts city to end arrests for psilocybin mushrooms, a psychedelic the FDA has classified a "breakthrough therapy" for depression after 9-0 city council vote in support. The grassroots group behind the years-long campaign, Bay Staters for Natural Medicine, has partnered with Somerville, Cambridge, Northampton, Easthampton, and Amherst to pass similar measures.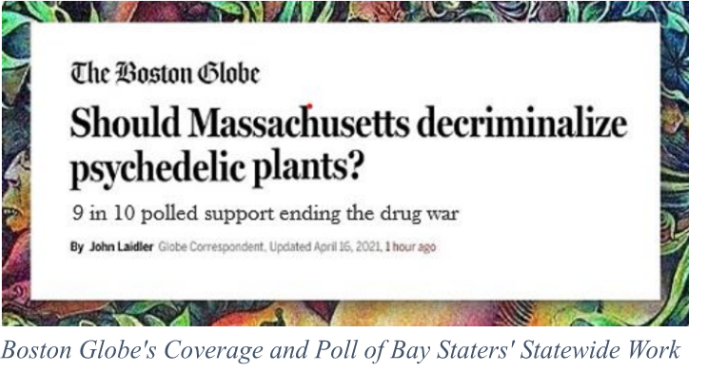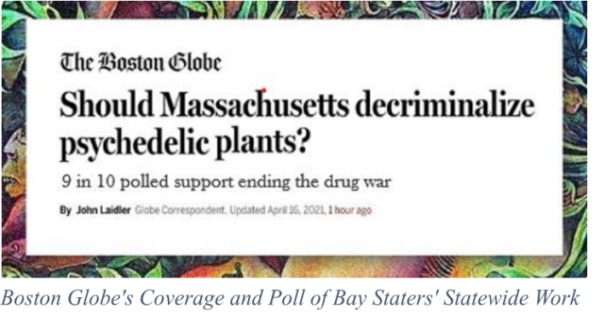 "Our communities deserve access to these plant medicines. From parents to veterans to law enforcement, many different types of people are working through trauma with these gifts of nature. They are becoming more conscientious and compassionate versions of themselves. It's beautiful," remarked James Davis, a co-founder of Bay Staters.
The measure had an unlikely proponent in Lucas Miller, the Chief of Police for the City who endorsed the measure before the city's final vote. "The indications that psilocybin could be helpful for opiate addiction is something that should not be ignored. We lose about 20 people in Salem a year to opioid overdose."  
Bay Staters has centered the overdose crisis in advocating for state legislation, including An Act Relative to Plant Medicine which would legalize home growing and sharing of psilocybin and related plants. A peer-reviewed and controlled study of 44,000 Americans in the U.S. Journal of Psychopharmacology found one use of psilocybin is associated with a 40 percent reduced risk of suffering opioid addiction. 
Disabled Marine Corp Veteran Michael Botelho, an organizer with Bay Staters and New England Veterans for Plant Medicine who served in combat during the Gulf War remarked, "Through the VA system, I was prescribed over 160 medications, including opiates, to cope with PTSD before finding psilocybin mushrooms. For the first time in nearly 25 years, I have been able to sleep, overcome addiction to opiates, and work again." 
Salem resident and neuroscientist Miyabe Shields said, "This is a win for science and the neurodivergent community to advance life-saving research on the complex innerworkings of our brains."