As Canada enters the era of retail psilocybin mushroom shops, we visit Shroomyz magic mushroom dispensary in Toronto to see for ourselves
Bruce, the regional district manager of Shroomyz, magic mushroom dispensary, is standing in the new space during its grand opening, the second location for the Shroomyz chain, but the first of its kind in Toronto. A visit into its trendy Queen West location brings you to an environment akin to any weed store in the city, with an entrance you buzz into, ID checks, knowledgeable staff, and Apple Store style display cases with carefully arranged products.
"It's a medical protest," says Bruce, offering his rationale for selling magic mushrooms over the counter.
Anything you're looking for, Shroomyz can supply, from dried psilocybin and microdose capsules to mushroom chocolates to mushroom tea. "The dried mushrooms are the biggest seller," says Bruce.
The store operates as a protest against unjust Canadian medical laws, laws that are currently in the process of potentially being changed, thanks to a landmark lawsuit happening right now between the Canadian government, TheraPsil, and seven Canadian patient advocates, who claim that restricted access to psilocybin as medication is an infraction of the Canadian Charter of Rights and Freedoms.
Shroomyz carries a variety of psilocybin strains, from the classic Golden Teachers, Penis Envy, and Blue Meanies to more exotic types like Amazonians and Mexican Cubensis. While they don't grow their own products, they do have their own Shroomyz-branded packaging, and stock other brands in the shop as well (all 100% Canadian), acting and operating as nothing more than a retail store for magic mushrooms, providing people with the medicine that they say they need.
Magic Mushroom Dispensaries: A Brief History
Shroomyz's first location opened up in Ottawa, Ontario in May 2022, with the Toronto-based expansion coming in hot on its heels. But with psilocybin being the new grey market in Canada and despite their marketing as Canada's first magic mushroom dispensary, Shroomyz isn't the first brick-and-mortar shroom store to toe the line and test the waters. While many stores claim to be, the honor of being Canada's first mushroom store award goes to Dana Larsen's Medicinal Mushroom Dispensary, which opened its doors in Vancouver in fall 2020 and also sells LSD for medical purposes.
Following this, the Fungi Shop opened in spring 2021, and Mushroom Cuts, a long-time barber shop expanding its wares, joined the mushroom street team in June 2021, and Zoomers followed suit in 2022 with a massive selection of dried mushroom (180 types!), infused drinks, and an on-site nurse. The Golden Teacher in Ottawa opened up in December 2021, marking the first mushroom dispensary in central Canada.
How Does It Work?
Like other magic mushroom dispensaries, Shroomyz requires all customers to prove that they are over 19 years of age, and complete a medical intake and liability release form that asks you to self-identify and self-diagnose a medical condition that psilocybin could potentially help with. Conditions from the drop down menu include ADHD, PTSD, depression, and insomnia, among others, and the more vague "Other."
The form also includes a contract to sign, outlining that Shroomyz only sells products for a medical purpose, and that they are not to be used for recreation, as well as establishing that the customer understands that the "scientific basis for the medical use of psilocybin has not yet been established."
Upon completing the form, the customer is then registered as a member of the dispensary, and able to make purchases from Shroomyz. This liability form and self-diagnosis, according to Bruce, is enough to free the store and allow them to sell the products (cash only, of course) as medicine, playing the role of a middle man.
The whole thing is reminiscent of grey market cannabis shops popping up all over Canada before official legalization in 2017, with shops opening up, asking users to bring a previous prescription bottle or self-diagnose, and register as a member before being allowed to purchase cannabis. However, those cannabis shops would often get raided and shut down, and members could sometimes walk by and have the storefront completely gone. Is the same story likely for these mushroom shops? One would think yes, but Bruce reveals that in the four months that Shroomyz has been operating in Ottawa, not once have they had an encounter with the law.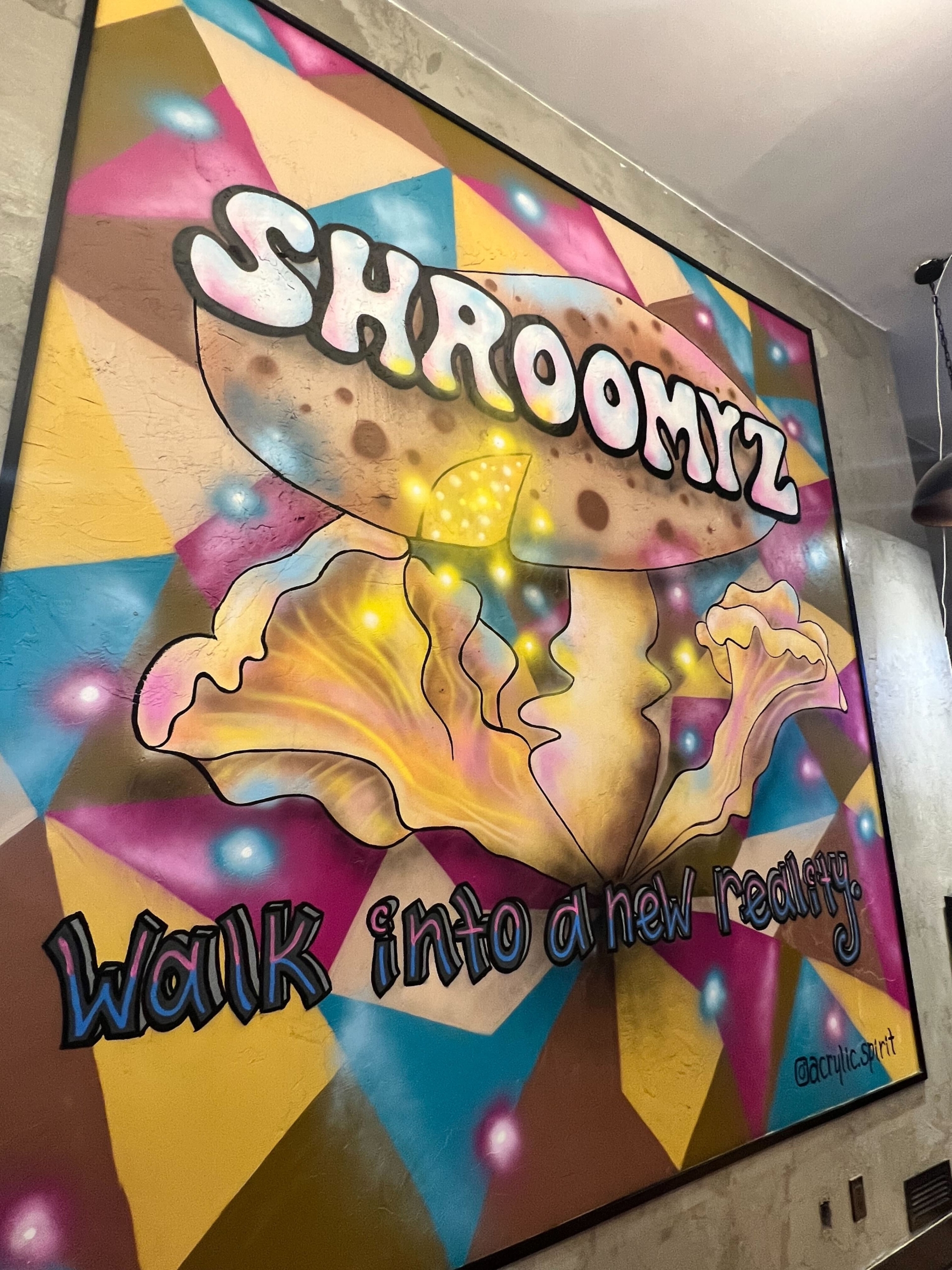 Despite Ottawa mayor Jim Watson telling CBC that "[i]f it's illegal, they should not be operating and they should be shut down as quickly as possible," Shroomyz, The Golden Teacher, and other shops continue to operate and thrive, with customers of all walks of life coming in, from microdosing mothers to suited-up business folks and CEOs trying to get some peace and rest to parents bringing their children in, hoping to get them off antidepressants and more. The mushrooms are the medicine, and perhaps the great equalizer: As more and more people seek a more natural path, the more mainstream psychedelics, and, hopefully, access to them, will become.
So What Does The Law Say?
In Canada, laws around psychedelics can seem a bit vague. Here's a breakdown of what's going on in the Great White North.
Officially, psilocybin was designated a prohibited controlled substance in 1974: "The production, sale and possession of magic mushrooms are illegal in Canada." They are considered a Schedule III substance, meaning they're defined as having a low potential for abuse and moderate risk for dependence.
However, in some cases, "with the support of a regulated health care practitioner," it can be possible for folks to legally access psilocybin for medical use, usually in one of three ways: A clinical trial, Health Canada's Special Access Program, and through individual subsection 56(1) exemptions from the Controlled Drugs and Substances Act (CDSA).
The Special Access Program allows approved health care practitioners to request access to drugs "that have shown promise in clinical trials or been approved in other countries," but have not yet been authorized or legalized in Canada. Only some regulated practitioners are able to request drugs such as psilocybin for their patients, and must also meet CDSA practitioner requirements. If a request for psilocybin is approved, a manufacturer will be issued a Letter of Authorization which allows them to legally sell the drug to the practitioner. BC-based Optimi Health is one of those manufacturers, licensed by Health Canada to produce natural, scalable, and accessible psychedelic and functional mushrooms, as well as synthetic formulations for transformational human experiences. In August, they launched Canada's first natural therapeutic psilocybin product in capsule form, Blue Serenity.
Likewise, subsection 56(1) exemptions for access to medical psilocybin are authorized on a case-by-case basis, with a number of factors such as medical condition, evidence of psilocybin use for said medical condition, availability of clinical trials, and more playing a role in the Minister of Health's decision to grant one.
Starting in 2023, British Columbia has a move to decriminalize small amounts of all drugs, but that doesn't go as far as legalization and won't change the legal status of magic mushrooms in the province– or, of course, the rest of the country. Possession and consumption of psilocybin for personal or recreational use remains illegal in Canada.
Final words
Microdosing is not officially scientifically proven, and, in fact, many other studies claim it doesn't work at all. Likewise, advocates of the psychedelic renaissance can greatly exaggerate the benefits of psychedelics as medicine, while sometimes inadvertently obscuring any potential negative effects or adverse consequences or reactions. While it's definitely exciting to see guerilla protests such as Shroomyz and other magic mushroom shops opening up in Canada, it's important to remember that psilocybin, like all medicine, is not a magic panacea, and being careful is necessary when exploring self-medication, especially when barriers of access to shrooms and other psychedelics are starting to melt away.