Mexico's rich cultural heritage, stunning landscapes, and deep-rooted psychedelic traditions make it an ideal destination for transformative retreats and inner exploration. Here is a list of 8 retreats found in Mexico that offer transformational experiences through plant medicines like psilocybin, ayahuasca, 5-MeO-DMT, and ibogaine.
Mexico, with its vibrant culture, breathtaking landscapes, and deep spiritual traditions, has become a sought-after destination for those seeking profound inner experiences through psychedelic retreats. With a long history of psychedelic use in indigenous communities that spans millennia, Mexico can be regarded as a sacred land where ancient wisdom intertwines with contemporary psychedelic exploration. In this article, we delve into some psychedelic retreats in Mexico that offer a safe and supportive environment for personal growth and exploration using substances like psilocybin, ayahuasca, 5-MeO-DMT, or ibogaine. Whether you're a seasoned psychonaut or embarking on your first psychedelic journey, these retreats can provide a gateway to self-discovery, healing, and transformation among some of Mexico's most scenic places.
You may also like: The Most Affordable Psychedelic Retreats Out There
Beond | Cancún | Ibogaine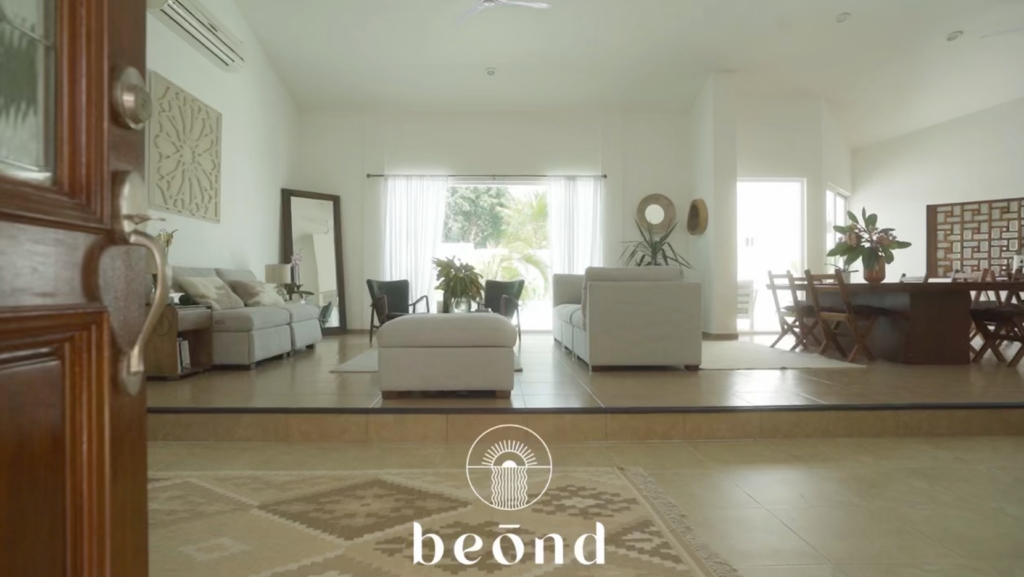 Found in the tropical haven of Cancún, Beond is an odd combination between a luxury retreat, a medical facility and a wellness center that treats some of the hardest cases of addiction, trauma and depression. Beond specializes on ibogaine as a plant medicine and has over 80 years of collective experience with it. Led by a team of experienced doctors, along with facilitators and adjunct therapists, Beond has decades of experience successfully treating thousands of people and their families who sought to heal trauma and chemical dependency. Some of the conditions they have treated include alcoholism and addiction to fentanyl, opiates, stimulants, Suboxone, and more. Aside from treating addiction, the team also treats mood disorders such as depression, anxiety, and trauma. Beond seamlessly blends the professionalism of a licensed, credentialed medical facility with the purpose-driven environment of a mental health treatment center, the inspiration and innovation of a psychedelic retreat, and the comforts of a luxury resort.
RELATED: Find Psilocybin Retreats Near You
Eleusinia | Valle de Bravo | Psilocybin & DMT
Eleusinia Retreat is found in the tranquil mountains of Valle de Bravo, Mexico. Eleusinia offers a serene and welcoming environment for small, intimate groups to experience the transformational powers of psilocybin mushrooms. Their retreat features a comfortable 6-bedroom villa that embraces the natural beauty of its surroundings. Their sessions all take place in their lush garden, allowing guests to connect with nature while embarking on their journey. The retreat also offers a thoughtfully curated menu prepared by an in-house gourmet chef that consists of three exquisite courses featuring traditional Mexican and continental dishes. Their 5-day retreat includes a 5-15 gram dose of mushrooms, a 1-3 gram dose session, and a 1-on-1 DMT session facilitated by an indigenous curandera from Oaxaca.
IbogaQuest | Tepoztlán | Ibogaine
With 12 years in business, IbogaQuest is renowned for its transformative retreats centered around iboga, a powerful psychedelic plant known for its potential in addiction recovery. Located in the ceremonial grounds of Centro Werika in Tepoztlán, a high mountain valley an hour and a half away from Mexico City, IbogaQuest is situated in an ancient town that overlooks a pyramid central to the cultural life of the community. With a team of experienced iboga providers, IbogaQuest offers a safe and supportive environment for participants to embark on a deep introspective journey through a careful screening process along with pre- and after-care sessions. They are very set on providing a safe setting and only offer the highest quality ibogaine assayed and certified to be > 98% pure. Their experienced team includes qualified therapists, body-workers, addiction specialists, and medical supports, while always working under the supervision of an experienced local doctor.
Life Synergy Retreat | Playa del Carmen | Psilocybin Mushrooms
Found in the beautiful city of Playa del Carmen, Life Synergy Retreat offers a transformative space for individuals seeking healing and personal growth through sacred plant medicines. With a focus on psilocybin ceremonies, their experienced facilitators guide participants on a journey of self-discovery, spiritual exploration, and emotional healing. The retreat also offers occasional San Pedro cactus ceremonies, as well as included, yet optional, DMT ceremonies derived from a native Mexican tree called Tepezcohuite. The retreat offers an array of activities in their itinerary such as a sound bath, breathwork, swimming in a cenote, yoga classes, homemade meals, and transportation to and from each activity.
One Spirit Infinite Journeys is a company that offers psilocybin and ayahuasca retreats in Mexico and in Costa Rica, respectively. Their psilocybin retreat is held at San Jose Del Pacifico, a town that is famously known for its mushroom use. If anything, you can consider San Jose Del Pacifico the mushroom capital of Mexico.
Their 8 days and 7 nights retreats offer two mushroom ceremonies, a temazcal (sweat lodge) session, emotional healing workshops, sound baths, breathwork, rape ceremony, integration support, cacao ceremony, meditation, vegetarian meals, transportation, and, for an additional cost, a massage with a their in-house massage therapist.
Nestled in the enchanting Mountains of San Jose Del Pacifico, Refugio Terrazas de la Tierra, the retreat center, embraces the captivating beauty of its surroundings. With a strong commitment to veganism, the center offers an array of delectable plant-based options for breakfast, lunch, and dinner, sourcing most of its ingredients from the land it harmoniously resides on. Embracing a sustainable lifestyle, the retreat center operates on a self-sustaining solar power system, inviting guests to disconnect from modern society and rediscover the pure joys of life.
Nestled in the tropical paradise of Tulum and Cancún, Quintana Roo, Mexico, Samskara Retreats offers a sanctuary for personal exploration and spiritual evolution. Combining ancient wisdom with contemporary therapeutic practices, their retreats focus on ayahuasca retreats. Each retreat package includes 6 days and 5 nights in Tulum or Cancun (depending on which city is available), 2 ayahuasca ceremonies, 1 temazcal, rape, an herbal medicine bath, a 1-hour massage, energetic activation, shamanic guided journey, cacao ceremony, somatic release breathwork session, cleansing in a cenote, integration sessions, homemade vegetarian meals, free WiFi, and transportation to the venue.
Sayulita Wellness Retreat, located in the beautiful secluded beach town of La Cruz de Huanacaxtle, Nayarit, offers a holistic approach to psychedelic exploration in a luxury retreat setting. With a focus on psilocybin mushroom ceremonies, their retreats provide a safe and supportive environment for emotional healing, personal growth, and self-discovery. Their total staff of 15 professionals have provided over 10,107 successful psychedelic treatments. The center's tranquil setting, nourishing homemade cuisine, and experienced facilitators contribute to a transformative and rejuvenating experience.
Each platinum 7-day retreat includes helicopter sighseeing, sunset sailing through Bay of Banderas, hypnotherapy, skydiving, scuba diving at Majahuitas Cove, a dinner show, sound therapy, anti-inflammatory homemade cuisine, private ocean view suite, three healing massages, three yoga and somatic movement classes, Wim Hof breathwork and ice bath, 4 weeks of aftercare calls, and three psilocybin sessions: one private macro dose (3.5-7.0g) and two micro doses (200-800mg).
Located in the scenic landscape of Tepoztlán, a mere 90-minute drive from Mexico City, Tandava offers 5-MeO-DMT retreats that allow you to explore the deepest realms of your consciousness. Their 5-day individual retreats include 2 weeks of prep work via Zoom before arrival, biofeedback and neurofeedback sessions, artesian market trip, mountain hike, Temezcal session, daily yoga, meditation, and breathwork, access to hot tub, steam sauna, and pool, 4 integration sessions post-retreat, and healthy meals prepared with fresh local ingredients with your dietary requirements.
Tandava utilize synthetic 5-MeO-DMT to provide more accurate and precise dosing, as well as to respect the Bufo toads and ensure the sustainability of the drug. Each participant undergoes a pre-screening process to ensure that it is safe for them to sit with the medicine. The retreat is only led by experienced practitioners and teachers who have dedicated years to mastering and navigating 5-MeO-DMT as a medicine. Each retreat comes with an integration protocol, ensuring that each participant can gets a lasting impact from the retreat on their daily life, long after the medicine has faded.
Final Thoughts
Embarking in psychedelic retreats in Mexico can be a profound and life-changing experience. The retreat centers mentioned above offer a safe and supportive environment for individuals to explore the realms of consciousness, heal emotional wounds, and facilitate personal growth. Whether it's ayahuasca, psilocybin mushrooms, iboga, or other sacred plant medicines, these retreats provide a gateway to self-discovery, inner transformation, and spiritual awakening. Remember to research each retreat center thoroughly, choose the one that resonates with your intentions, and always prioritize safety and integration to make the most of your experience with psychedelic retreats in Mexico.