Arizona lawmakers have chosen to support psilocybin research, with efforts focused on gathering information that could advise long-term policy reforms surrounding the substance's availability for psychedelic-assisted therapy.
Arizona state legislators have recently approved a bill that encourages exploration into the medical benefits of psilocybin mushrooms for treating various ailments. This crucial research could be used to reform current laws and regulations, increasing access to psychedelic-assisted therapy as a viable option moving forward.
After being introduced last month, HB 2426 was unanimously approved 15-0 by the House Military Affairs & Public Safety Committee, led by Reps. T.J. Shope (R), Kevin Payne (R), Stacey Travers (D), and Jennifer Longdon (D).
This follows the example of over a dozen other states with active legislation in 2023 aimed at funding psychedelic research and/or reducing legal implications for personal use.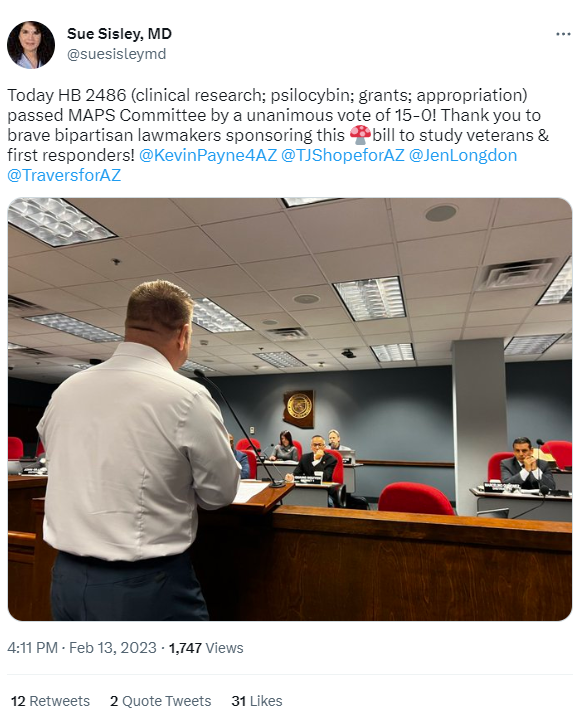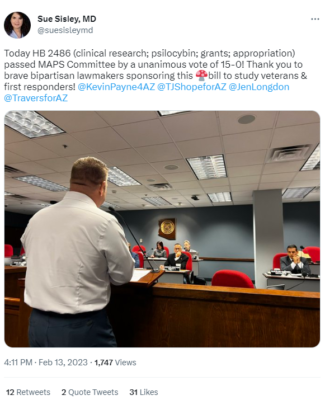 $30 Million in Grants Over 3 Years to Fund Psychedelic Research
Scientists throughout Arizona will study the impact of psilocybin specifically regarding the treatment of 13 distinct conditions including long COVID, depression, substance abuse disorder, PTSD, and others.
The bill is tailored specifically to fund research efforts, with a "Psilocybin Research Advisory Council" set to be created under the Arizona Department of Health & Safety.
According to the legislation, research would prioritize "using whole mushroom psilocybin cultivated under a Schedule I license issued by the United States Drug Enforcement Administration (DEA)" and "using veterans, first responders, frontline health care workers and persons from underserved communities as the research subjects."
The research grants can be given for phase I, II and III clinical trials described as, "capable of being approved by the United States Food and Drug Administration (FDA) to evaluate the effects of whole mushroom psilocybin" for the relevant condition(s).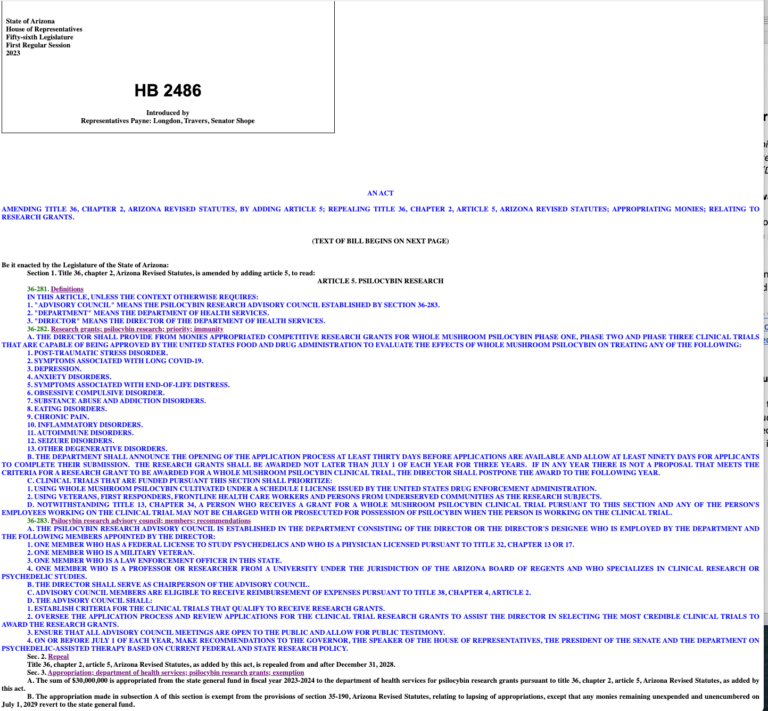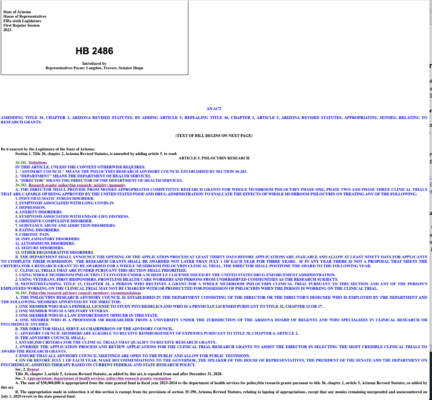 Read More: 
The Biggest Psychedelic News Stories This Week
Australia Reschedules Psilocybin and MDMA to Begin Treating TRD and PTSD
Psychedelics Bills Filed in Four More States as 2023 Reform Efforts Heat Up
Bipartisan bill aims to use 'magic mushrooms' to help veterans