Vermont and Connecticut state representatives discuss psilocybin legalization. Ohio State University researchers given a DEA license to grow psilocybin mushrooms. Beckley Psytech's latest DMT treatment doses first patient.
Vermont and Connecticut take steps towards psilocybin legalization as state representatives discuss how to regulate any potential industry. At Ohio State University, researchers have been given a DEA license to grow psilocybin mushrooms as means to study their effects on mental heath treatments. In more research news, Beckley Psytech's latest DMT treatment sees its first official dose in a human subject with results of the study expected by the end of 2023.
Vermont legislators discuss psilocybin legalization plus psychedelics work group bill in 2024
Vermont lawmakers held a committee hearing this week as members discussed legislation to legalize psilocybin and make initial strides toward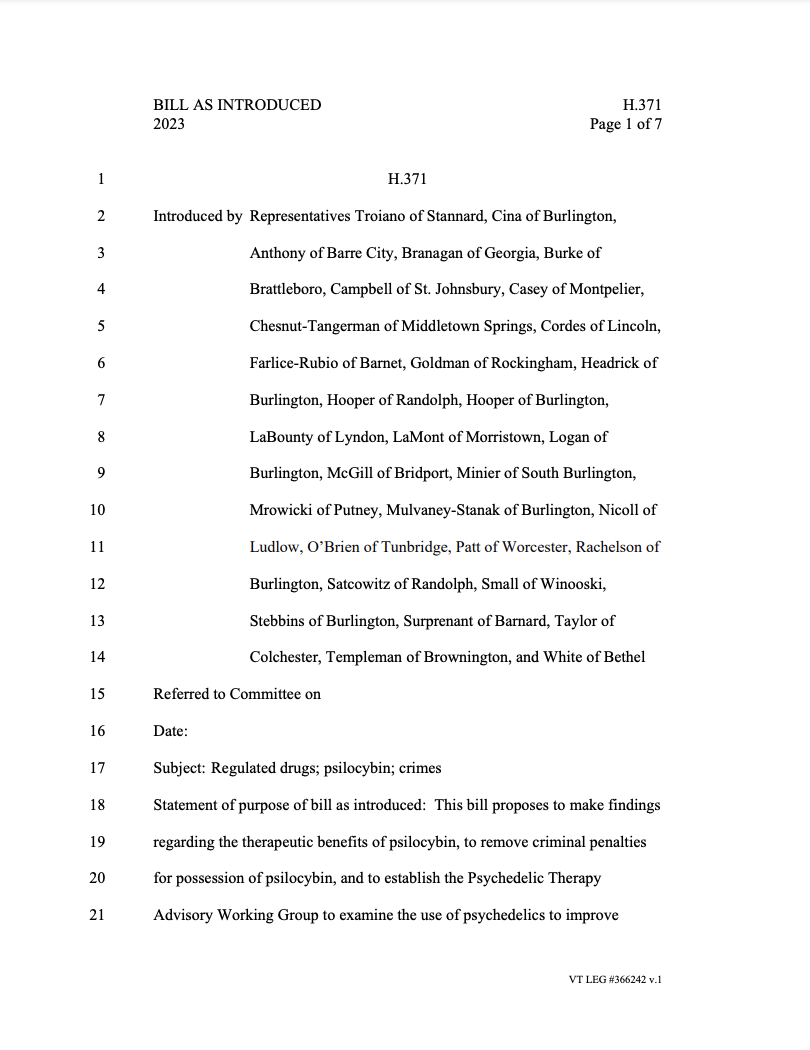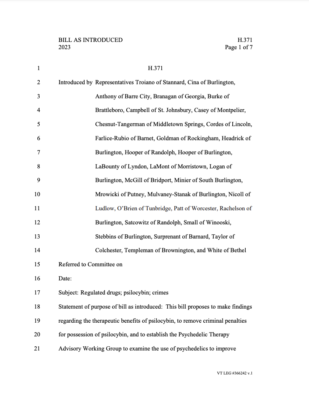 providing regulated access to it.
Members of the House Judiciary Committee took up H. 371 from Reps. Chip Troiano (D) and Brian Cina (D), who said he's personally benefitted from using psychedelics.
The legislation would remove psilocybin from the state's list of prohibited drugs, effectively legalizing the substance.
It also calls for the establishment of a Psychedelic Therapy Advisory Working Group that would be required to "examine the use of psychedelics to improve physical and mental health and to make recommendations regarding the establishment of a state program".
The group would include eight members including: lawmakers, researchers, advocates and state officials.
Members would have to "review the latest research and evidence of the benefits and risks of clinical psychedelic assisted treatment" as well as look into the "laws and programs of other states that have authorized the use of psychedelics."
Vermont lawmakers have put forward multiple drug policy reform bills this session, including measures to promote harm reduction services, broadly decriminalize drugs and investigate psychedelics.
Small amounts of psilocybin mushrooms would be decriminalized in Connecticut
The bill, which opponents warned could lead to the eventual full legalization of the drug, passed 86-64 and will move to the Senate. 
If first approved in the Senate and signed into law by the governor, the penalty for a first-time possession of less than half an ounce would be $150.
"This drug currently is treated as an A misdemeanor, punishable to up to a year in prison, similar to drugs such as heroin or cocaine or fentanyl," stated Rep. Stafstrom, main sponsor of the bill, who expects federal approval of the psilocybin within the next two years. "Whereas those drugs have not been shown to have a beneficial medical use, psilocybin has been. This bill is not legalizing. It's not saying that there is no penalty for being caught with this."
Under the bill, people fined for this possession must follow the procedures set by law for infractions. They can pay the fine by mail without making a court appearance. But the bill provides a lower burden of proof than is generally required for infractions or other violations that follow infraction procedures. It requires a law enforcement officer who issues a complaint for this violation to seize the psilocybin and have it destroyed as contraband according to law. The bill requires referral to a drug education program, at the person's expense, for anyone who for a third time enters a plea of no contest to, or is found guilty after trial of, possessing less than half an ounce of psilocybin.
Ohio State receives DEA license to grow psychedelic mushrooms for research purposes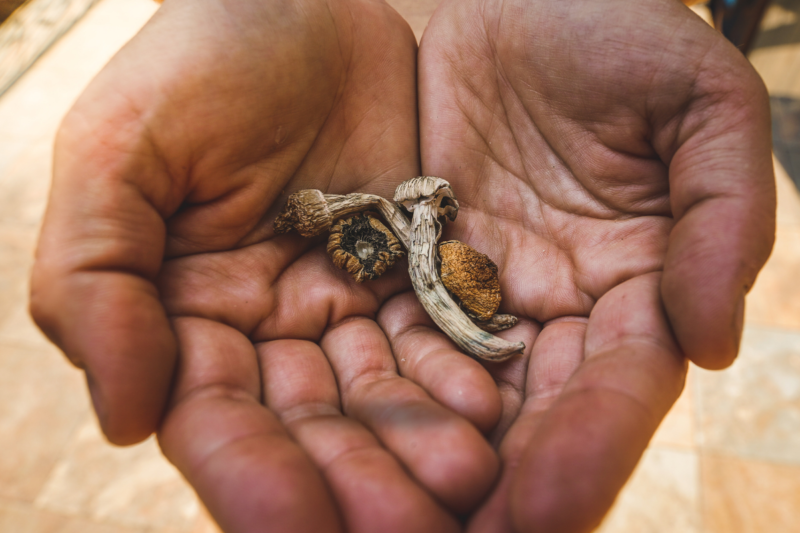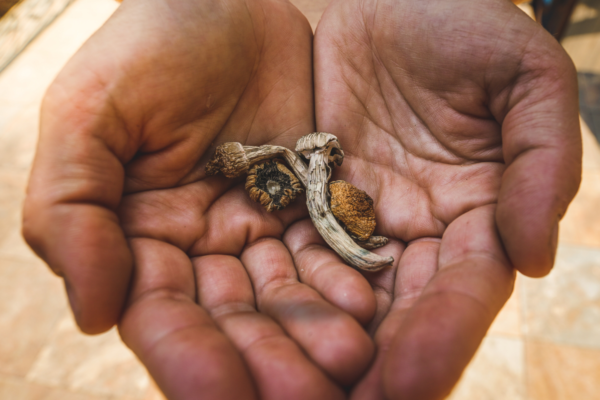 Ohio State, alongside the mental health and wellness research and development company Inner State Inc., was awarded the first-ever license by the U.S. Drug Enforcement Agency to an American university to grow whole psilocybin mushrooms. The mushrooms will be used in the study of mental health treatment with naturally grown psychedelic mushrooms.
The license allows Ohio State and Inner State to cultivate psilocybin mushrooms for research purposes only. All research will be conducted in a federally sanctioned and secured grow house in accordance with strict DEA regulations and guidelines.
"By combining cutting-edge techniques in genomics and metabolomics, we have the opportunity to obtain a high-resolution picture of the chemical diversity of mushrooms that have remained difficult to study for several decades," according to Ohio State researchers Dr. Jason Slot and Dr. Kou-San Ju.
Symposium in Aspen focuses on healing with psychedelics
On June 2, Aspen Public Radio, Healing Advocacy Fund, and the Aspen Psychedelic Resource Center will hold the inaugural Aspen Psychedelic Symposium from 12 pm to 7 pm at the Wheeler Opera House.
The recent successful state passage of the Natural Medicine Health Act (Proposition 122) is seen as a shift in public perception regarding psychedelics. Colorado's ballot initiative was the first to decriminalize the possession and use of psychedelic mushrooms and certain plant-based psychedelic substances in Colorado law for individuals aged 21 and over and requires the state to establish a regulated system for accessing psychedelic mushrooms and additional plant-based psychedelic substances.
This day-long event is a deep dive into the tradition, science, and advocacy behind integrating medicinal use of psychedelics into modern culture. Panels throughout the day will include experts from Colorado and across the country.
Symposium tickets are available at aspenshowtix.com.
First dose administered in phase 2a psychedelic study for treatment-resistant depression
A synthetic formulation of the compound 5-MeO-DMT (BPL-003; Beckley Psytech) has already been shown to be well-tolerated in a phase 1 trial, according to the release from the U.K. biotech company. The phase 2a trial will evaluate the safety, efficacy, and pharmacokinetics of BPL-003.
In the study, patients will receive one dose of BPL-003 and be followed for 12 weeks.
The study is being conducted at King's College Hospital and Hammersmith Medicines Research in the U.K. and seeks to explore the effects of a single dose of BPL-003, a proprietary intranasal formulation of synthetic 5-methoxy-N, N-dimethyltryptamine (5-MeO-DMT), in combination with psychological support, for those with moderate to severe TRD symptoms who are not taking concomitant antidepressants.
Beckley Psytech anticipates results from the study by the end of 2023. These data, along with data from a phase 2b study expected in 2024, will inform future development of BPL-003.