The current psychedelic space is predominantly white led with little visibility existing for Black businesses, creators, and enthusiasts. Here is a list of Black psychedelic businesses and collectives to learn more about, support, and share with others.
To start off, in no way is this a definite list. In the process of writing this article, it became apparent that it isn't very easy to find Black psychedelic businesses and the ones included here were the ones that were found through the research process. There may be some or many that were missed, and more will be added as they are found.
It was really eye-opening to see how hard it was to find Black psychedelic businesses. Yes, this may be primarily because of the legality, of course, but even searching in countries where legal businesses are set up to offer psychedelic services was still a challenge.
For example, running a Google search for "Black owned psychedelic retreats in Jamaica" had zero Black-owned retreats in its first page. In fact, one of the retreats that did show up running in Jamaica is ran by a white CEO. Even Goop made it on the search result before one Black-owned Jamaican psychedelic retreat showed up at the end of the second page of Google search results. There must be Black-owned Jamaican retreats that exist, right? At least a handful, but why is it so hard to find them? There is a big rise in psilocybin retreats in Jamaica, but most of them are white-founded or led and the diversity in their teams is abysmal. In a country that is 92.1% Black, I would have expected to find more Black owned retreats or businesses more easily.
How does psychedelic use differ in the Black community?
Psychedelic use in the Black community is not as common as in the white community. This may be what contributes to the lack of businesses that exist — there is just a different cultural attitude toward psychedelics. Even Robin Divine, a Black advocate for safe spaces in the psychedelic community, wrote an article asking why more Black people don't use psychedelics. She mentions that factors that affect this are societal stigma, disproportionate rates of incarceration, lack of visible diversity in the space, inaccessibility, and cost.
Due to disproportionate drug arrests, cultural stigma regarding drugs, and lack of visibility in the space, psychedelics already have a smaller reach in Black communities than white communities. So it should be a conscioous goal in this space to uplift more Black voices, creators, and businesses to begin re-contextualizing how psychedelics look like in their community.
While negative perceptions toward psychedelics still remain, Black people are doing psychedelics. There should be more representation to help Black psychedelic enthusiasts be able to find like-minded communities in this space.
Does unchecked racial bias exist in the psychedelic community?
There is a clear lack of BIPOC representation in the psychedelic space. In my researching of this piece, I found that there exists a certain type of psychedelic user who tries to use psychedelic enlightenment and their own ego dissolution to blatantly dismiss the lack of diversity and the need for Black spaces in the community. Check out conversations regarding race on online Reddit psychedelic communities like r/Psychedelics. It is disheartening to see what should be a progressive community lack the necessary empathy to acknowledge Black people's experiences, but then again…it's Reddit. I should have known better. Certain psychedelic enthusiasts will say that psychedelics teach you that we are all one, thus that the concept of race is superfluous and should not exist in this space. But, is that statement not inherently racist by dismissing how the current psychedelic renaissance is being led?
The 1960s psychedelic era was a counter-cultural movement that began with roots in psychiatry and academia. But, the current psychedelic renaissance is being led by Capitalism. It would be remiss of us to ignore the fact that the high majority of psychedelic retreats being offered are through companies founded by white people, with some being ran on Black people's land, charging prices that are just unreasonably high and fostering inequality in the space.
The main biotech companies creating proprietary psychedelics and putting them through clinical trials to reach market are also white-led and have questionable diversity within their groups. The ethics of proprietizing psychedelic medicine has been reported on for years now. The common sentiment is that patented psychedelic medicines only prevent marginalized communities from using them due to the restrictive costs. Say it with me: capitalism perpetuates inequality by creating inaccessibility to communities who lack the sufficient resources to buy into whatever exploitative fad it presents to its white, affluent clientele.
Even looking at this from a non-business lens, there is a disparity that exists even in academia. BIPOC are not included in clinical trials nearly in the same frequency as white people. Most research right now is white-centered, and it is not a secret also that the scientific community also lacks diversity. Even the media affects the way the psychedelic space is framed. Most stories being shared in the media are white-centered ones.
For example, we see articles about white moms microdosing, various reports about how psychedelics helped a white person's depression, and the world just couldn't stop reporting on Prince Harry saying he used psychedelics. For every story focusing on a Black person and psychedelics, there are 10 others that drown it out. Fact of the matter is there is unequal coverage regarding the Black experience in psychedelics. The lack of Black visibility in the psychedelic space is worrisome and needs to be addressed. So when someone says, "race shouldn't matter because psychedelics taught me that we are all one consciousness," (something I was actually told in my researching for this piece) they inherently fail to acknowledge how this negatively affects Black and other minority communities' lived experiences, which, let's be real, feels racist.
By claiming to not see color, we fail to acknowledge that prejudice and lack of diversity exists in the space. And by failing to acknowledge that, we foster an environment that does not take into account Black voices and actively diminishes their presence.
What type of Black owned psychedelic businesses are highlighted here?
With that being said, I wanted to find businesses and groups to share that have a mission different than their white counterparts. One that is rooted in community, culture, and education rather than framing psychedelic use and experiences through the lens of luxury retreats and products with high costs that create barriers to entry, and thus continuing to foster inequality. There have been many Black communities and creators throughout the years whose resources and talents have been exploited, thus uplifting Black creators in the psychedelic space is pivotal to ensure we create safe spaces where Black psychedelic enthusiasts can find community and feel supported in a safe space.
BLACK OWNED PSYCHEDELIC RETREATS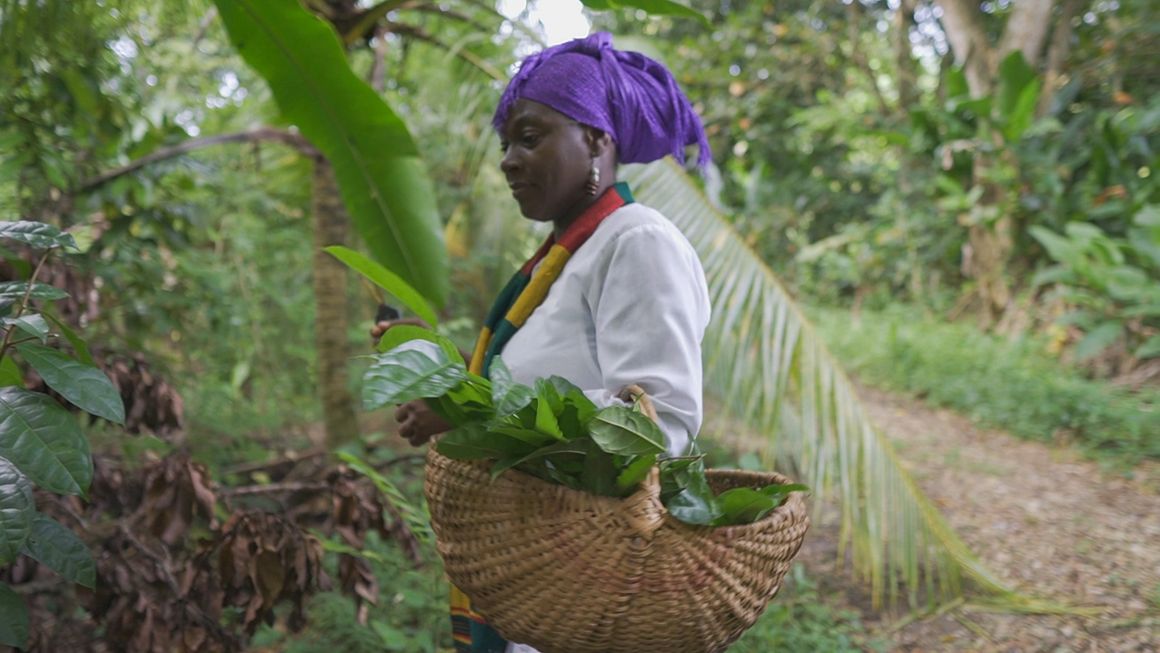 Plant Tribe Retreats formed a partnership with Rastafari Indigenous Village to provide a 5-day retreat unlike any other. This retreat is not in a fancy, purpose-built retreat center. Instead, the retreat occurs in an actual functioning Rastafari village that has grown organically over the course of fifteen years. All net proceeds of Plant Tribe Retreats at Rastafari Indigenous Village are devoted to the protection, preservation, and promotion of indigenous Rastafari communities.
Days are mostly unstructured to allow you to experience the natural flow of the community. Some things you can expect to do while being there is to learn how to make drums and soaps by hand, learn true history and heritage from Rastafari elders, consult with their Reiki master Queen I, and participate in sacred plant medicine ceremonies.
The standard retreats offer psilocybin mushroom medicine, with Ayahuasca and Huachuma experiences available upon request, and cannabis consumption is freely shared among adults. Their team is composed of deeply experienced Afro-Caribbean psychedelic guides that offer loving support for personal discovery and individual trauma repair.
Zion Life Retreat is a Black-owned psilocybin retreat in Kingston, Jamaica founded by Stephanie Barnwell (LPN). Stephanie is an indigenous Gullah Geechee native from the Sea Islands of the Lowcountry in Beaufort, South Carolina. She created Zion Life to facilitate healing the mind, body, and soul in the most natural and authentic way possible.
This Black psychedelic business offers a retreat in a private, professional home environment with Stephanie as the guide.  It offers different types of retreat options such as a 4-day-3-night retreat, single day sessions, home visits, and private group retreats.
In addition, the retreat also offers psychedelic and cannabis nurse consulting that includes personal and business training, education, macro- and microdosing assistance, workshops, and seminars. Recently, they also introduced a 14 day-facilitator training where they teach how to safely hold space with psychedelics and plant medicine.
Stephanie's mission is to provide a place of refuge and healing for BIPOC that look like her to open doors, educate, lead, help raise the collective vibration, and increase the level of consciousness to remember who they are.
BLACK PSYCHEDELIC COLLECTIVES AND GROUPS
The Ancestor Project is a collective that aims to "integrate ancestral practices into the modern psychedelic journeyers' experience to reduce harm and expand consciousness." They offer education via virtual and in-person opportunities to support the continuous evolution of the spiritual and human being. Past series topics have included Psychedelic Anti-Racism and Afropsychedelia.
They also offer an interactive, self-guided ceremonial guide made for those who want to create ceremony for themselves that includes a recorded prayer, journal prompts for intention setting, specially made recipes, meditation and breathwork, preparation checklist, curated ceremony tools from BIPOC and women-owned companies, and more. They also provide affordable courses at different price points led by BIPOC industry professionals, such as a course focused on psychedelic-assissted therapy for BIPOC communities.
In addition, they also hold legal ceremonies to help release all that no longer serves a person. They work with medicine allies like Rapeh and Kambo to guide people back to their trust and highest self. The Ancestor Project aims to make education, integration, and ceremony more accessible to BIPOC communities and recontextualize the psychedelic experience using ancestral knowledge.
An important and forward-thinking business in the psychedelic space, Oakland Hyphae is a socially responsible, Black psychedelic business. Their goal is to educate and provide dependable, high-quality resources and information for plant medicine cultivators and enthusiasts.
Oakland Hyphae was founded by Reggie Harris, who has over a decade of political campaign experience and community organization. On the West Coast, Reggie worked on a local level to replace police with guidance counselors in Oakland public schools with the Black Organizing Project. More recently, he managed the western and southwestern state campaigns with Color of Change PAC that turned Nevada blue. Reggie established Oakland Hyphae which hosted both the Psilocybin Cup and The Oakland Psychedelic Conference, which was the most impactful psychedelic event of 2021. The Psilocybin Cup has become a leading event that recognizes the strongest mushroom variants or "strains" grown by enthusiasts, plant medicine workers, and businesses.
Reggie is a co-founder of Hyphae Labs, which leads the industry in psychedelic mushroom potency testing and helps with The Psilocybin Cup. He also founded Hyphae Nootropics, which offers adaptogenic medicinal fungi from Cordyceps to Lion's Mane. Reggie's goal is to create barriers of entry to prevent big money interest groups from taking over like they did with the cannabis industry. He ultimately aims to protect legacy plant medicine workers from corporate vultures.
Founded by Ifetayo Harvey, The People of Color Psychedelic Collective is a body of members dedicated to psychedelic healing and education. They work to undo the harms caused by the War on Drugs and oppressive systems of injustice. The Collective brings psychedelic education to people of color and creates spaces for BIPOC to learn about the harms of the War on Drugs and the healing properties of psychedelics.
In 2019, the Collective formed Empyrean, the first psychedelic conference dedicated to community building for people of color. This two-day conference had workshops that focused on psychedelic policy, herbalism, and dismantling patriarchy in the psychedelic space. Their most recent event was the Social Jusice Summit 2023 event held on January 20th – 22nd, 2023, where panelists discussed the promises and pitfalls of psychedelic healing for trauma.
In a space that is predominantly white, the People of Color Psychedelic Collective has carved out a path to create a sense of belonging for folks of color.
Black Functional Mushroom and Plant Medicine Businesses
While not psychedelic per se, functional and gourmet mushrooms are an adjacent field that deserve attention, too. Blue Oyster Cultivation is a family-owned gourmet mushroom farm located in Ithaca, New York that "produces the finest gourmet mushrooms in the Northeast."
Their bio says they are the original artisan mushroom farm that continues to set the standard in quality, freshness, and presentation. Blue Oyster Cultivation offer their mushrooms at only the best farmer's markets and joke that they were into mushrooms before it was cool.
In addition to their mushroom farm, they created Mushroom Spirits Distillery – a company that creates spirits from mushrooms. Their Hen of the Woods vodka spirit is a 2022 Denver International Spirits Competition double gold winner, Best in Class winner, and 2nd place Best in Show recipient. It goes without saying that they know what they are doing in the world of mushrooms.
Mikaela de la Myco comes from a multi-cultural, first-generation Italian, Afro-Caribbean, and indigenous Mexican family who lived in the Los Angeles – unceded Tongva territory.
Her primary focus in medicine work is to hold community and small group spaces where people can journey through the dark amenta to uncover their ancestor codes, explore and enjoy the body, and heal sexual trauma wounds with mushroom medicine all while keeping barriers for entry low.
In addition to mushroom medicine guidance, Mikaela provides a variety of planet medicine in her store like an emmenagogue tea blend that support menstrual release, capsules for childbirth aiding and remedying the absence of menstruation, as well as herbal birth control tinctures. Mikaela created Mama de la Myco to fill a need in the entheogenic community through peaceful, powerful mother-led spaces.
Southwest Mushrooms is a mushroom farm in Phoenix, Arizona that provides 100% gourmet mushrooms that are freshly cultivated at their urban grow farm.
Founded by Michael B. Crowe, Southwest Mushrooms utilize a high level of hands-on expertise which produces top-shelf A+ quality mushrooms that contain elevated taste profiles and health properties.
Their passion is to offer every customer the freshest product in the marketplace for an authentic farm to table experience. Michael enjoys sharing the science of growing mushrooms and explores new ways to apply them in cultivation and culinary use. Southwest Mushrooms provides product to top chefs and everyday cooks, as well as beginning and experienced mushroom cultivators worldwide.
Conclusion
Researching this article taught me that there is still a lot of work to be done in the psychedelic space in terms of diversity. It shouldn't be as hard to find Black psychedelic businesses as it is. We can help mitigate this disparity by sharing more Black businesses, collectives, and groups that aim to help their communities during this psychedelic renaissance.
It is important to remember that there is a deeper layer to promoting Black psychedelic businesses than the commerce aspect. Black people should be able to have safe psychedelic spaces where they can learn more about these drugs, and consume them if they please, with other Black people.
There are specific nuances to the every day existences of Black people, and really all minorities, that are better understood around people who have had similar experiences. Sharing Black psychedelic businesses helps to foster community and promote diversity in a space that desperately needs it.