Two doctors in Quebec were able to facilitate psilocybin-assisted psychotherapy treatment to their patients - entirely legally.
Quebec is leading the way in mental health care, recently becoming the first province to cover costs associated with psilocybin-assisted psychotherapy. With this revolutionary approach gaining momentum across Canada and beyond, it appears that a kinder era of holistic healthcare may be just around the corner!
TheraPsil, a non-profit that advocates for legal psychedelic therapy has made history in Canada; Quebec is the first province to cover the costs of psilocybin-assisted psychotherapy!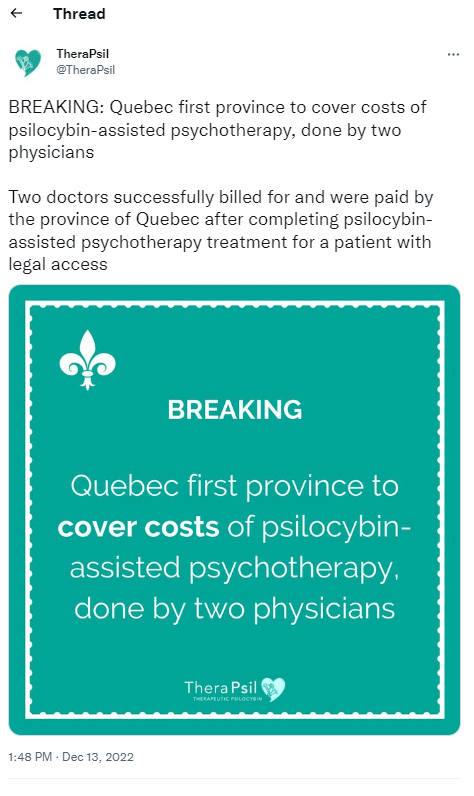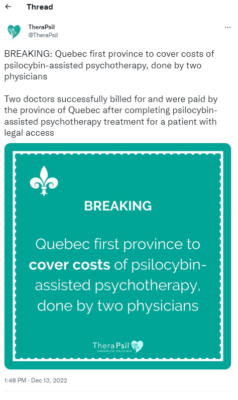 According to TheraPsil, two doctors were already able to successfully bill their province for psilocybin-assisted psychotherapy treatment – done entirely legally through access granted by Health Canada.
And they don't plan on stopping there – TheraPsil announced they are working hard towards obtaining similar outcomes across other provinces as well.
In November, a delegation of patients and medical professionals travelled to the nation's capital to seek more compassionate access to psilocybin for Canadian adults suffering from palliative depression, addiction, PTSD and chronic disease.
Though a formal meeting with the Ministers of Health, Jean-Yves Duclos and Carolyn Bennett was denied, the delegation extended its stay in Ottawa, speaking with members of the press, everyday people and other government representatives.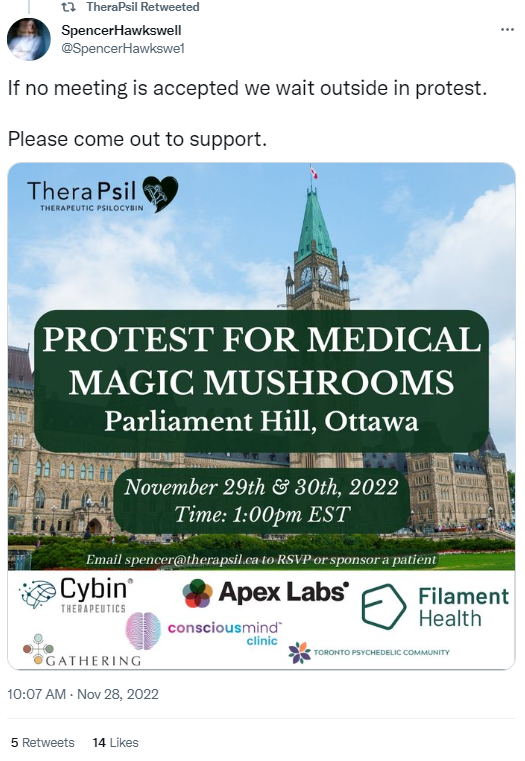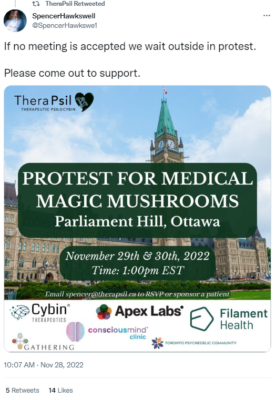 In addition to meeting with decision-makers and health organizations, patients and medical professionals reached out to Parliamentarians to raise awareness about the medical benefits of psilocybin.
The meeting was held to educate the public and recommend a transparent regulatory approach to guide medical access to psilocybin, just as was done for cannabis in 2000.
This summer, the organization also worked on a landmark lawsuit against the Government of Canada and the Minister of Health. The case was about patients' access to psilocybin and psilocybin therapy.
Psilocybin and psilocin are Schedule III substances that Canadians may only access through certain legal loopholes. The recent lawsuit TheraPsil filed against the government argues that these existing pathways are insufficient and do not adequately serve the needs of patients who need therapeutic access to psilocybin therapy. This is not the first time TheraPsil has taken legal action against the government–all three previous court challenges were resolved in favor of the patients before any trial proceedings began.
After March 17, 2023, eligible individuals suffering from a mental illness will have access to MAID providing that all requirements are met and the proper precautions are taken by their practitioners.
What's Next?
Currently, psychedelic providers in North America are becoming more brazen, opening up dispensaries to show and sell their psychedelics, ranging from the (perfectly legal) Amanita muscaria to microdoses of raw, packaged Penis Envy and Golden Teachers to peyote. With laws slowly but surely changing and the public view also moving more left, it's likely that more and more of these grey-area shroom shops will open up, as well as some that specialize in other, legal psychoactive goodies.
We've compiled this list of open and existing psychedelic dispensaries that will continue to be updated as new stores come up on our radar.
So there you have it, folks. If you thought 2022 couldn't end on a positive note, doctors in Quebec are now able to facilitate psilocybin-assisted therapy for their patients. This marks a significant turning point in the way mental health is treated and opens up new possibilities for those struggling with mental illness. It will be interesting to see how other provinces respond to this news and whether or not they will follow suit. Regardless, it is clear that society's perception of psychedelics is changing and that there is a growing interest in their therapeutic potential.