Virgina Haze, the co-author of "The Psilocybin Chef Cookbook," promises a psychedelic experience "can be delicious as well as trippy."
Virginia Haze doesn't like the taste of 'shrooms. They trigger her gag reflex. Upset her stomach. Sully the experience — which she immensely enjoys. But with the help of her good friend K. Mandrake, PhD., an expert in fungal biology and fellow gastronome, she's found ways to make psychedelic journeys more palatable, and published them as The Psilocybin Chef Cookbook.
Combining Dr. Mandrake's scientific insights and Haze's penchant for the artistic expression of words and images, the two created a collection of recipes featuring psilocybin as the magic ingredient for the rest of the world to enjoy.
And the world — at least those in the psychedelic space — took notice.
"We just didn't expect [the cookbook] to take off as much as it has," Dr. Mandrake tells Psychedelic Spotlight. "People have really, really enjoyed it and really enjoyed playing around with the recipes."
But First, the Bible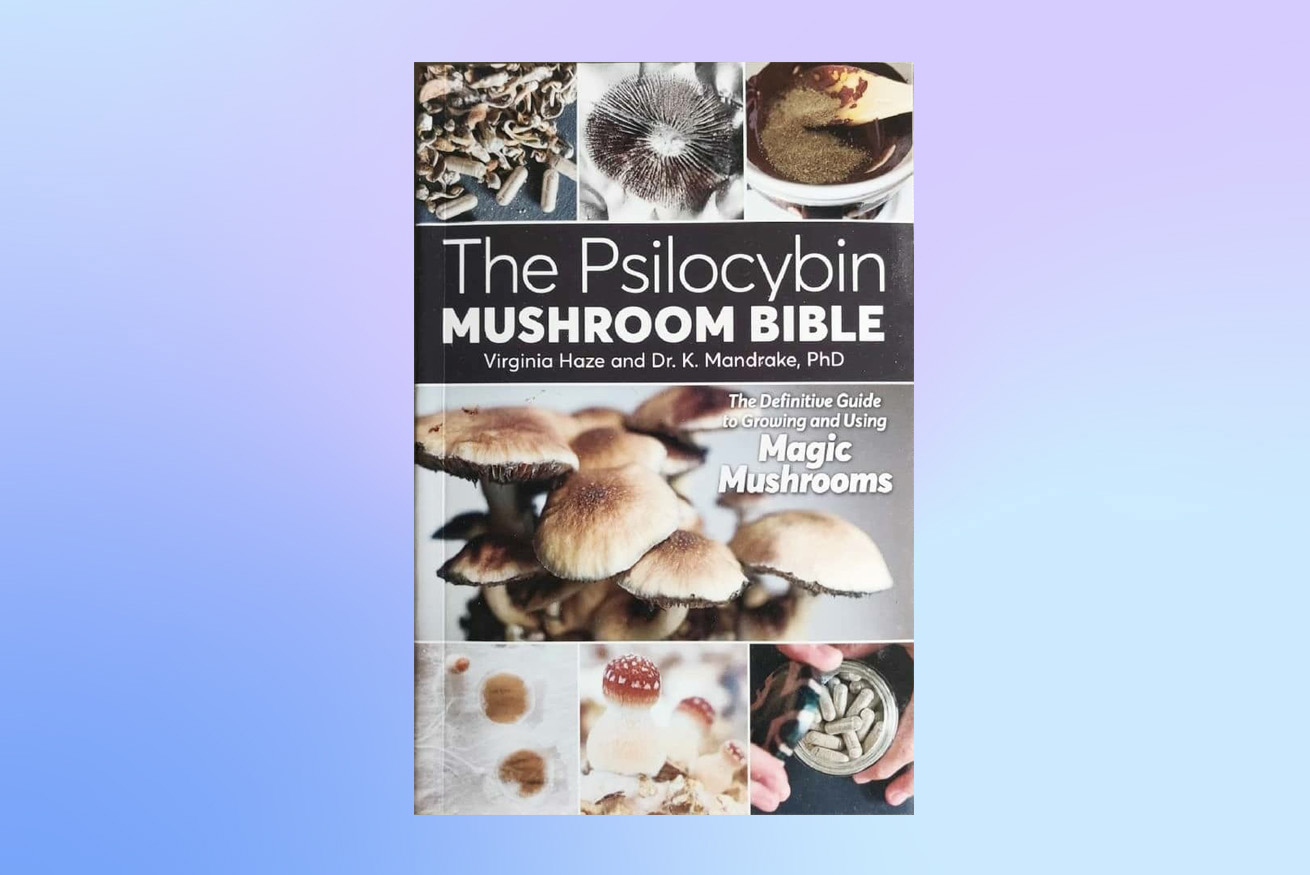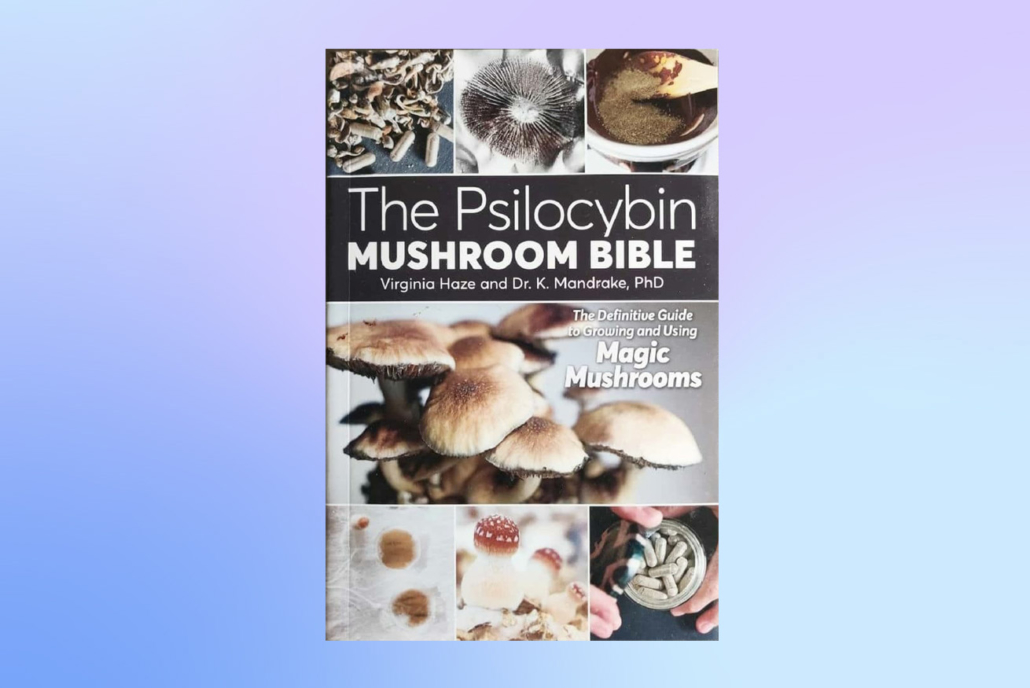 Dr. Mandrake and Haze became fast friends more than a dozen years ago due to their mutual admiration for magic mushrooms. He taught her how to grow her own 'shrooms, which led to their commiserating about how difficult it was to find resources that informed people about the proper way to cultivate them.
It was no surprise information was scare. Psilocybin was marked by the regulatory "beast" — illegal to possess, sell, transport, or grow in the United Kingdom and, at the time, in the United States. (Some cities and one state now allow it to some degree.) Haze and Dr. Mandrake decided it was high time they create a resource.
"We started playing around, putting all of our ideas together in an accessible way and, yeah, suddenly, we had a book," Haze says. That book, The Psilocybin Mushroom Bible: The Definitive Guide to Growing and Using Magic Mushrooms, was published in 2016. It provides a wealth of information on how to quickly, safety, and effectively produce psychedelic mushrooms with step-by-step photographic instructions. During the making of it, the couple developed a few recipes to help those, like Haze, who struggled with the taste and texture of dried 'shrooms.
"They're not the tastiest of culinary treats," Dr. Mandrake concedes.
What they discovered, when talking to those who had read their mushroom bible, was that people were quite captivated by the recipes, so much so, they asked for more. Dr. Mandrake and Haze decided to collaborate on another psilocybin-based project, this time, a cookbook.
The Psilocybin Chefs
It wasn't a stretch for the two to create a cookbook. Both Dr. Mandrake and Haze are psilocybin aficionados, but they're also quite adept in the kitchen. "We both come from gastronomic backgrounds. We're also both vegan. We like playing around in the kitchen," Haze says. "So, it just came naturally to us."
The cookbook starts with basic psilocybin extractions (for dosing calculations, all recipes are based on Psilocybe cubensis), some of which can be stored long-term while others should be consumed immediately. Then the book provides recipes that use the extractions as well as dishes that incorporate dried or fresh 'shrooms. The recipes are broken into categories: Drinks, Main Courses, Desserts, and Sweets.
Despite Dr. Mandrake and Haze's love experimenting with food, the recipes are fairly simple and easy to follow. "If you come around to one of our houses for dinner, you will not say either of us cooks simply," Dr. Mandrake says. "But I think anyone would find these recipes are accessible and relatively simple."
Some highlights include renowned mycologist Paul Stamets' two-ingredient Ice Water Blue Juice ('shrooms and ice) and the much-prized Ginger Lime Chocolate Truffles. "It's a tried and tested and very popular recipe that will make you popular with your friends," Haze says. And because the truffles incorporate ginger, "They're really great if you have any kind of sensitivity around mushroom digestion or psilocybin processing."
And then there's the Lemon Tek, a scientific wonder that uses the power of fresh squeezed lemons to send imbibers faster and farther on their journey. (Under normal circumstances, when psilocybin is consumed, the stomach's acid breaks it down into psilocin. But the lemon juice in the Lemon Tek facilitates this process even before the mushrooms are ingested.)
An added bonus with most of the recipes — you don't have to deal with that strong earthy taste or the rubbery texture of psilocybin mushrooms. "With the recipes you can either completely mask the flavor or you can sort of accentuate the nicer parts of the flavors," Dr. Mandrake says.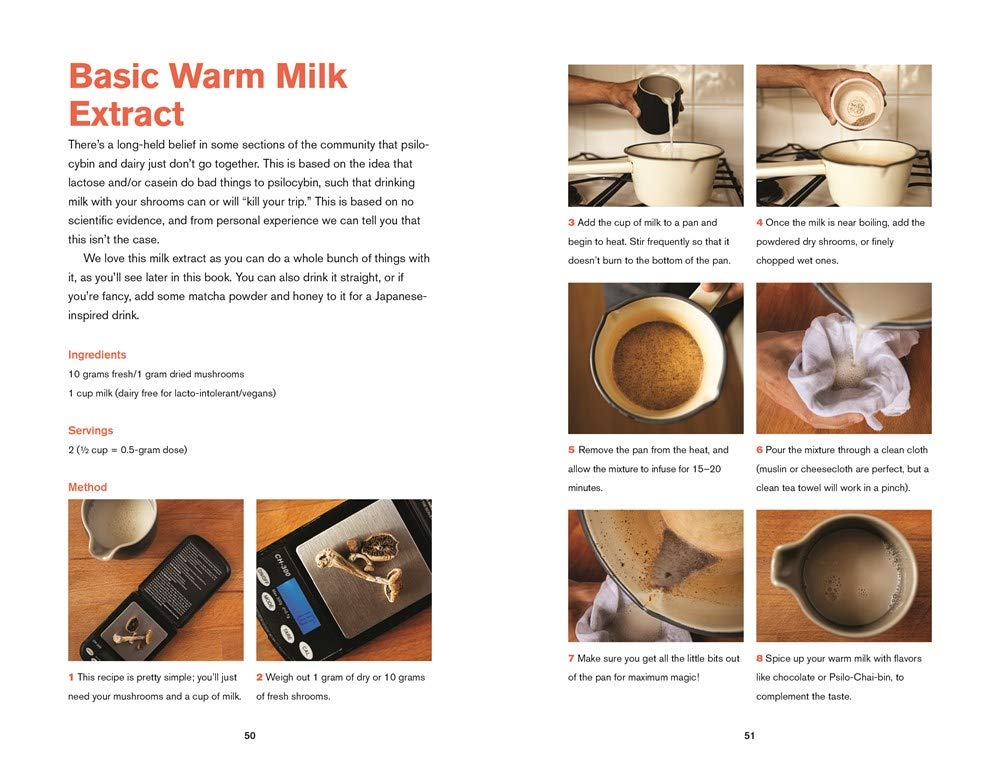 Enjoying the Journey
If there is one takeaway Dr. Mandrake and Haze would like to impress upon readers, it's that psychedelic journeys should be positive experiences all around, beginning with consumption.
"I think, especially with younger people, they believe they have to go through the horrible experience of chewing down on dried 'shrooms to have the proper experience, but I don't think it has to be like that," Haze says. "It can be delicious as well as trippy."
Dr. Mandrake agrees. "If you start out your psychedelic experience sort of retching and gagging, it isn't going to be as fun than if you'd had a really nice hot chocolate."
A Sampling
Here's a sample recipe from Virginia Haze and Dr. K. Mandrake's The Psilocybin Chef Cookbook.
CREAMY GARLIC SHROOM PASTA
Ingredients:
1 cup mixed mushrooms of choice
1 gram dried shrooms OR 10 grams fresh shrooms, powdered, or finely chopped
2 cloves garlic, crushed
1 cup milk
1 tablespoon wholemeal flour (or white flour)
½ teaspoon herbes de provence
2 tablespoons olive oil
150 grams dried spaghetti
1 bunch of fresh parsley
Servings: 2
Prep time: 5 minutes
Cook time: 20 minutes
Method:
Cook half the garlic in half the olive oil for a minute, then add sliced mushrooms and shrooms.
Cook for a few minutes and set aside.
Bring a pan of salted water to a boil, add in the spaghetti and cook for 10-12 minutes until al dente.
Cook remaining garlic in remaining oil, add flour and herbes de provence, and stir well until combined.
Slowly whisk in the milk, add cooked mushrooms and a handful of parsley, and cook for a few minutes.
Stir through cooked spaghetti and garnish with parsley. Freshen with a squeeze of lemon.