Psychedelic Spotlight's video producer attended the inaugural Benzinga Psychedelic Capital Conference, and here are the key insights he walked away with.
The first ever Benzinga Psychedelics Capital Conference was held on April 19 at the Fontainbleau Hotel in Miami Beach. It preceded the 14th iteration of the Cannabis Capital Conference and represented a return to form for Benzinga after years lost to pandemic pandemonium.
The conference brought together leaders of the biggest publicly traded psychedelics companies with investors from across North America. It was a day full of unique networking opportunities, insight on opportunities in this burgeoning space, and a chance to be in the room with the leaders who are endeavoring to take the psychedelics industry to the next level.
Psychedelic Spotlight had the opportunity to attend, so I wanted to share five telling takeaways from the Benzinga Psychedelics Capital Conference scene.
1. Expect Another Benzinga Psychedelics Capital Conference in 2023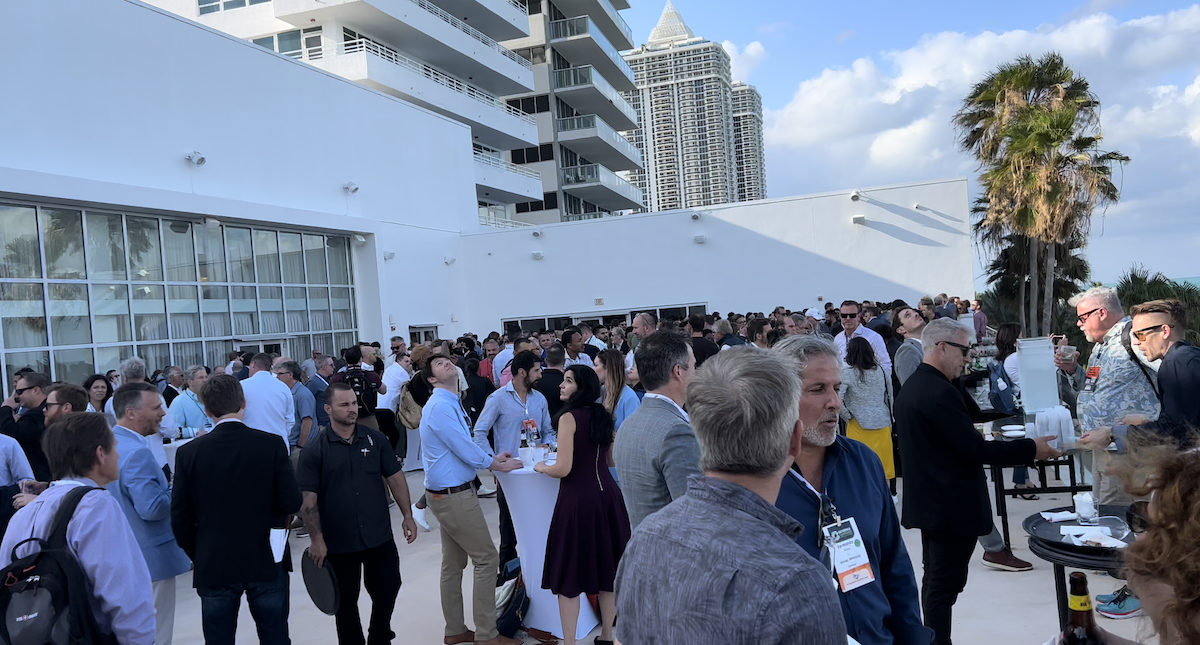 According to the Benzinga staffers I spoke with, their team was very satisfied by the turnout and the feedback received. The last number I heard was over 600 attendees for its inaugural session. The Benzinga Cannabis Capital Conference, in its 14th session, netted close to 2,000 attendees, which makes the numbers from the psychedelics conference look that much more impressive.
If you've ever been part of executing a conference or trade show, you know that there are innumerable moving pieces. The word I heard from panelists and attendees as the day wore on was overwhelmingly positive, with many individuals still in a kind of shocked gratitude to be attending in-person, after the logistical differences imposed by the pandemic.
Benzinga staffer and head of psychedelic content Natan Ponieman explained why the company believed a psychedelic capital conference was warranted. "If you look at emerging industries like e-sports, crypto, cannabis and psychedelics and other rising industries, if you get in early on these industries, there's a lot of possibility to really build substantial wealth. It's also trusting that the fundamental thesis of the market is going to work."
Ponieman says he's bought in on a personal level to the promise psychedelics hold. "I really believe in the power of psychedelics to heal the mind and body, and to really do a lot of good in the world."
2. Irwin Naturals Affirms Its 'First Mover Advantage'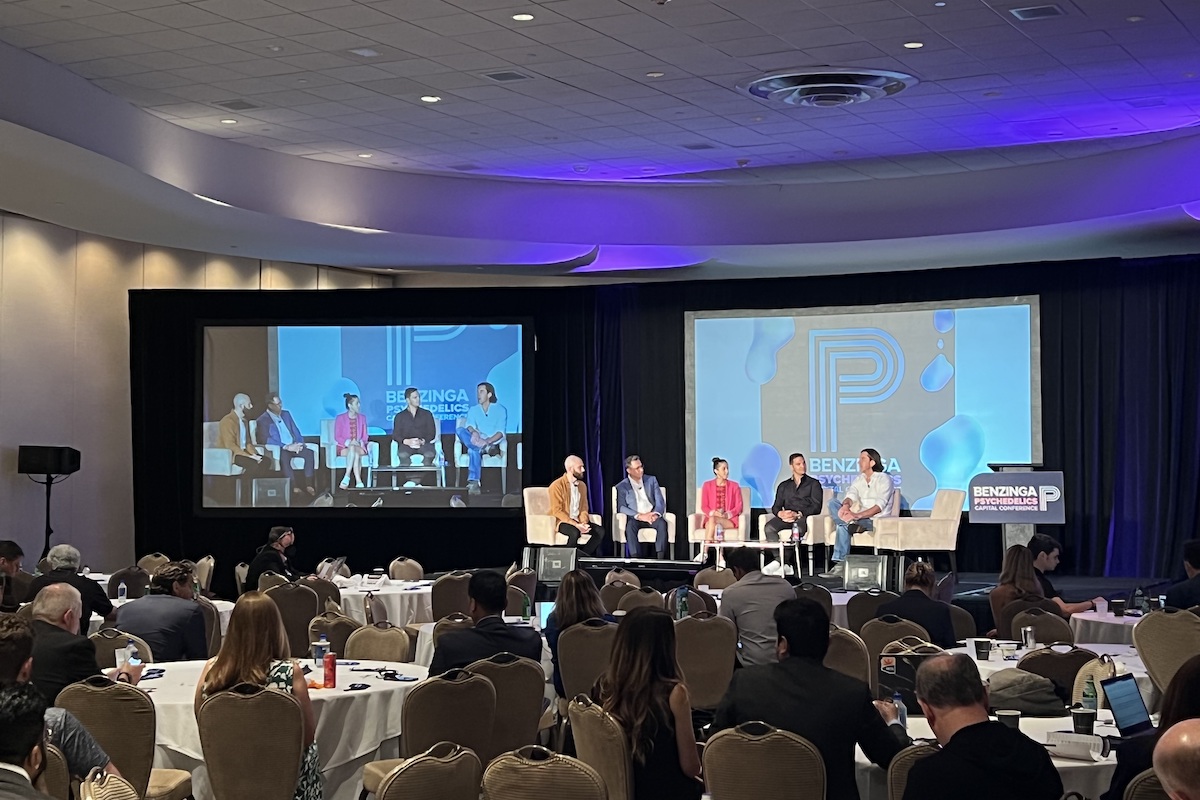 Much of our work at Psychedelic Spotlight entails reporting on the business news coming out of some of the major entities emerging in the psychedelics sector. This includes well-established publicly traded companies, to startups in the early stages of raising capital. Companies we've covered were in attendance at the conference to connect with prospective investors and whole sections of the conference floor were set up for one-on-one meetings.
In his keynote session delivered to investors and industry peers, Irwin Naturals founder and CEO Klee Irwin shared the company's vision for itself as a "Coca-Cola first mover." Irwin is endeavoring to leverage its household name and profitable premium vitamin and supplement business into becoming the largest speciality brand of psychedelic mental health clinics.
"Kind of think something like the Jenny Craig of psychedelic mental health clinics," Irwin said, alluding to the success the well-known weight-loss clinic was able to sustain by establishing the predominant footprint in that industry. Irwin is a publicly traded company, but Klee himself still owns the vast majority of the company, allowing him to vote to make risk/reward decisions. "I'm focused on philanthropy and healing, and I use capitalism to create impact."  
3. Innovators From Other Sectors Seek Psychedelic Synergy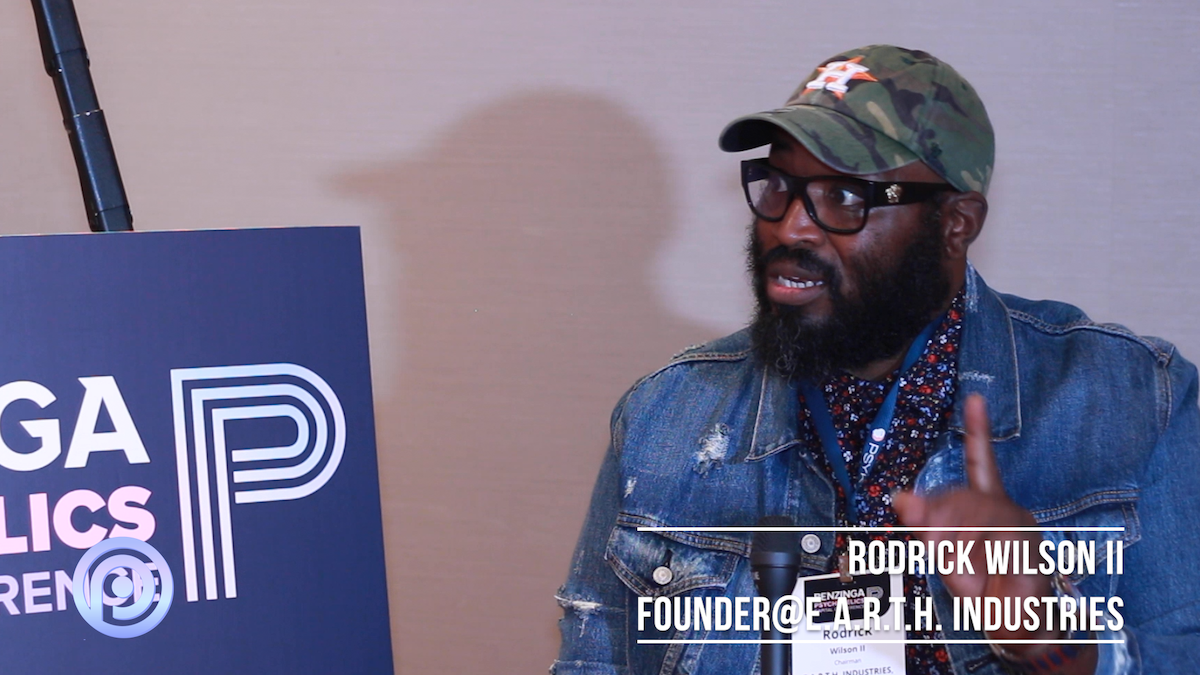 Throughout both the psychedelics and cannabis conferences, I met individuals who were drawn into attending from vast and varied backgrounds and professions. Several expressed the desire to connect with other entrepreneurs with interest in plant medicine, to forge crossover investment opportunities and build symbiotic relationships.
Rodrick Wilson II is an entrepreneur, community leader, sustainable developer and wounded warrior, having served active duty in both the U.S. Army and Navy. Having attended the Benzinga Cannabis Conferences in the past, he made sure to arrive in time to attend the psychedelics conference as well, to represent the vision behind the team at E.A.R.T.H. Industries.
"Education, Agriculture, Recycling, Technology and Health. Our mission is to develop mixed-use, manufacturing, live work play gig economy communities," Wilson explained. "With us being a group of wounded warrior veterans, we understand how military bases go into communities, set up, design, and stimulate the economy. That's how we design our compound and concept."
When it comes to plant medicine, Wilson can speak to a problem that innovations in new therapeutics can play a role in solving, within the communities his group wishes to build. "The communities that we focus on the most are not only veterans but also seniors. As a soldier, I come home, I have problems, and the solution is, here's the bag of medication, you figure it out.  That's not good for a lot of soldiers."
4. Women Have an Advocate in Felicity Pharma CEO Olivia Mannix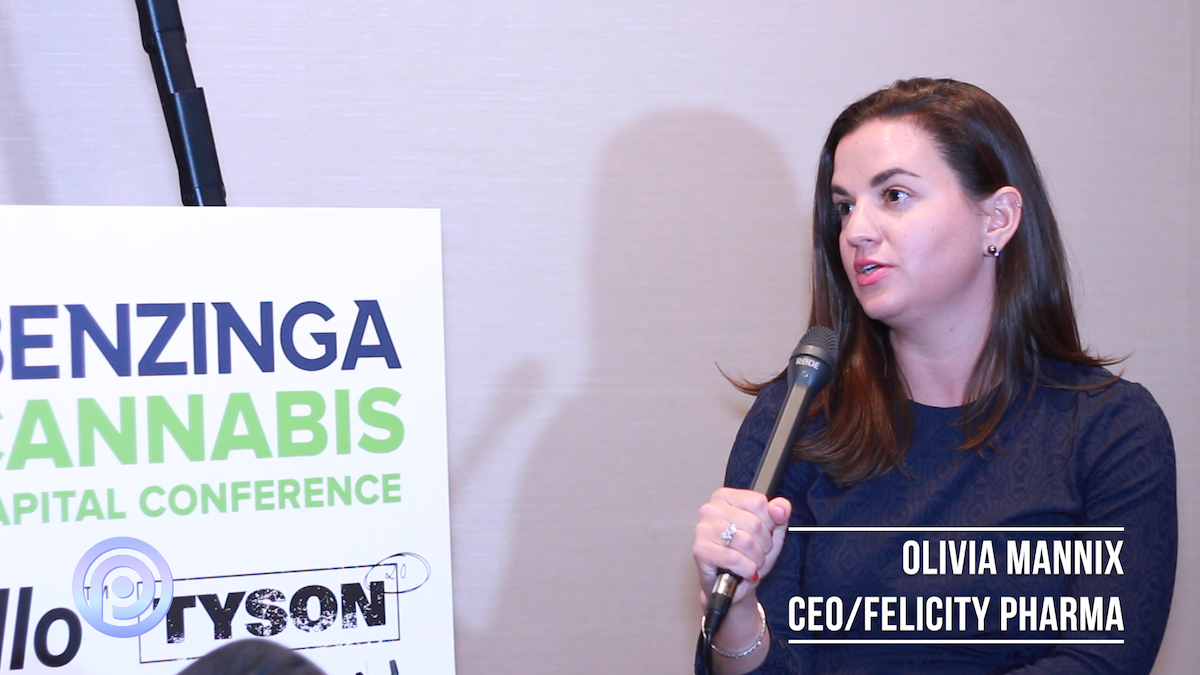 The innovations in and development of new therapeutics for conditions specific to women continue to lag. Felicity Pharma is a drug development company, and CEO Olivia Mannix sees psychedelics as the perfect way to address women's health in ways not previously actualized.
"When it comes to clinical trials, often women are not used because of their biological makeup," explained Mannix. "That's something we're creating solutions for."
Mannix's partner at Felicity is Dr. Gigi Kuo, a traumatic brain injury specialist, who was instrumental in developing Tryp Therapeutics Fibromyalgia program. Together they've developed a proprietary drug that's ready for testing.
"Our first indication is PMDD: pre-menstrual dysphoric disorder," said Mannix. "This is a very severe form of PMS which effects 30% of women and is a billion-dollar industry. I didn't even know about it until I got into the field, but that just goes to show how little education there is around women's issues."
5. Super Mario Was Way Ahead of His Time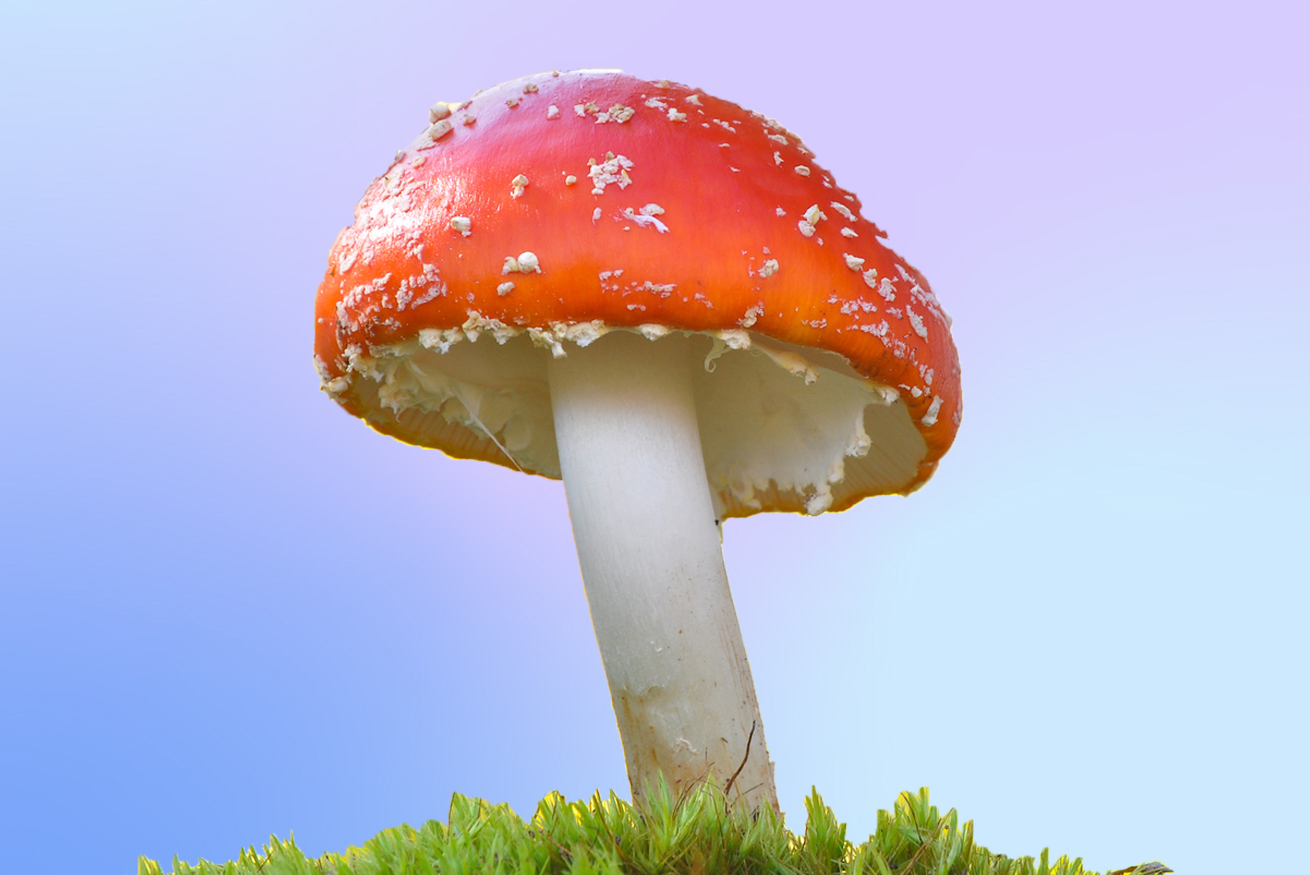 The iconic Amnita Muscaria mushroom has popped up all over the world in popular culture, but perhaps no place more visible than the Super Mario Brothers video game franchise. Eat the magic mushroom for a "1 up."  Perhaps the programmers knew more than they were letting onto when selecting this particular fungi for fun guy Mario to derive his superpowers.
Psyched Wellness CEO Jeffrey Stevens has championed his company's research into the Aminita Muscaria to dispel the myths about the mushroom's poisonous nature, seeking instead to utilize this particular fungi's therapeutic properties.
"Although it's recognized, it's not really understood," Stevens explained. "If you were to Google it, it would come up as a poisonous mushroom, when in fact there are some compounds in it that could have a nasty effect, by and far it's not a poisonous mushroom."
His company has done the pre-clinical studies and the toxicology studies. This work has led the team to be able to start selling the mushroom's beneficial extracts on the open market.
"Over the course of two years, we've positioned the company now to be able to start selling our product now as a food supplement in the United States under the GRAS (generally recognized as safe) designation. We look to have our first products in the market this summer, 2022."
___________________________________________________________________________________________________
Interested in attending conferences where you can meet the leaders of the psychedelics industry? Join Paul Stamets, Field Trip Health chairman Ronan Levy, and more at Canada's premier psychedelics conference, The Catalyst Summit. Being held in Kingston, Ontario, from May 20th-22, the Catalyst Summit is your chance to get the inside scoop on the psychedelics industry.
Purchase your tickets through Psychedelic Spotlight and receive 20% off!
But hurry, tickets will soon be sold out. Buy Now!