From drinking lemon water to using it as a natural cleaner, lemons have a multitude of benefits. For some psilonauts, that may mean making your magic mushroom trip shorter, more intense and tastier!
If you're a psilonaut who's into the latest trends, then you've probably heard of lemon tek. But what exactly is it? In short, lemon tek is a way to make magic mushrooms more potent. By soaking them in lemon or lime juice for 15 to 20 minutes, the psilocybin mushrooms are reported to become up to four times as strong. While the jury's still undecided on how lemon tekking works on a chemical level, many anecdotal reports claim that lemon tek makes your trip shorter and more intense. Of course, there are a few things you need to know before you go ahead and start dosing yourself with lemon tek'd shrooms.
Here's everything you need to know about this trendy new way to trip.
How Does Lemon Tek Work?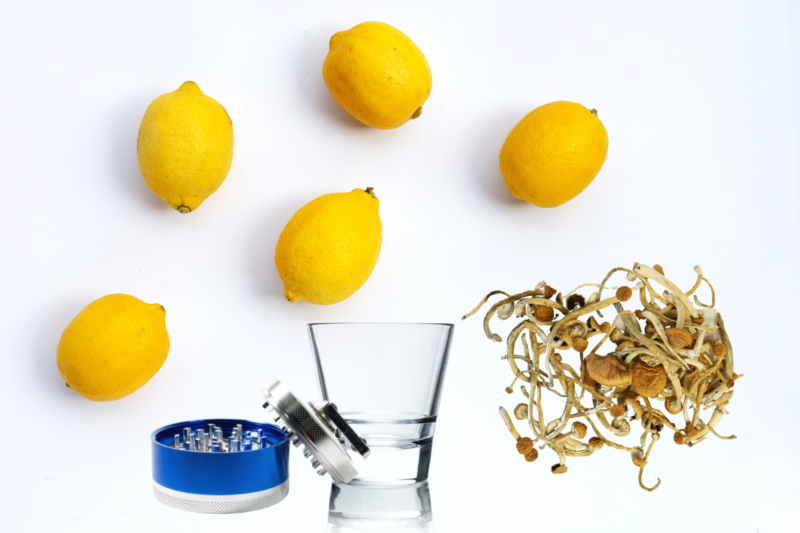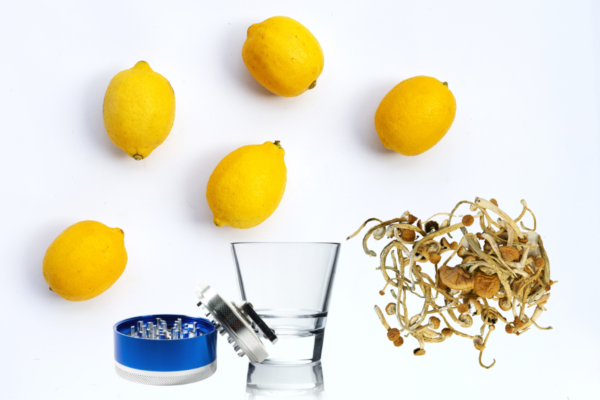 It's all thanks to the acid in the lemon juice. When magic mushrooms are soaked in lemon or lime juice, the acid breaks down the cell walls of the shrooms. This makes it easier for your body to absorb the psilocybin, which is the active ingredient in magic mushrooms. As a result, you'll feel the effects of psilocybin mushrooms much sooner and the trip will be much more intense. Trust us, this is not something you want to do if it's your first time taking magic mushrooms!
The mechanisms behind lemon tekking have yet to be concretely understood. However, we do know that citrus juices carry a pH similar to stomach acidity – between 2 and 2.6 as opposed to 1.5 and 3.5 – and that the dephosphorylation of shrooms' enzymes intensifies in such acidic environments.
However, lemon tekking does more than just improve the taste of magic mushrooms. Some psilonauts speculate that the lemon juice chemically converts psilocybin into its prodrug, psilocin. Psilocin is what causes the hallucinations and other psychedelic effects associated with magic mushrooms.
So, Does Lemon Tek Amplify Your Psychedelic Experience? 
The jury is still out on whether or not Lemon Tek actually does make magic mushrooms more potent. There's no scientific evidence to support this claim, but there are plenty of anecdotal reports from people who claim that soaking your magic mushrooms in lemon juice accelerates onset effects and concentrates psilocybin's psychedelic effects.
Soaking your mushrooms in citric juice is also reported to get rid of the one- to two-hour wait between simply taking shrooms and feeling their impact.
If you're interested in trying lemon tek, there's no harm in giving it a shot (pun intended). Just be sure to start with a lower dose than you would normally take, since the effects may be stronger than you expect.
Are you planning to work with psychedelics?
Join our Bonfire Psychedelic Community to support your integration process.
Lemon Tek Risks and Benefits
What Are The Risks?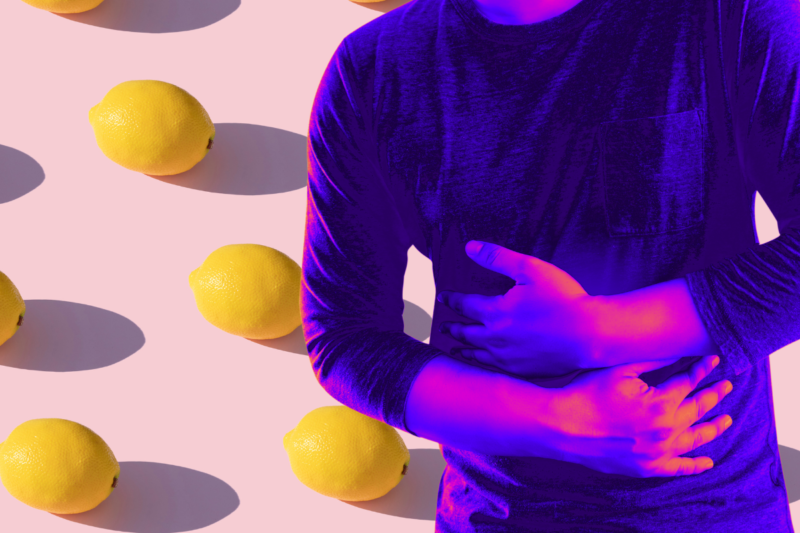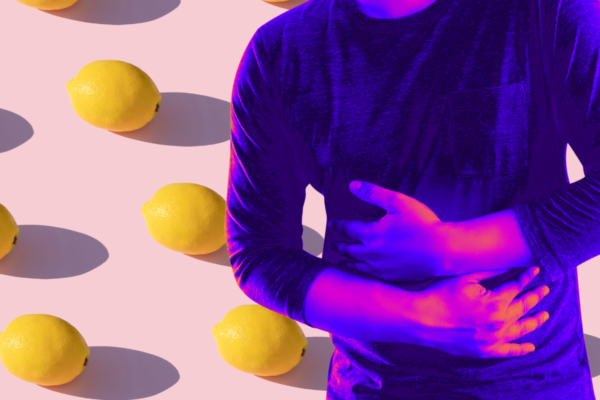 Of course, with anything that promises to make your experience more intense, there are a few risks involved. Some people may argue that a faster journey is not always better. Soaking your shrooms in lemon juice will make them more potent, which means there's a greater chance that you'll have a distressing experience, if you're an inexperienced psilonaut. If you do decide to lemon tek your shrooms, make sure you start with a small dose and work your way up from there.
A Fast Come Up May Have a Downside
When you lemon tek mushrooms, the effects come on faster and are more intense. However, the trip will also end sooner.
When you lemon tek, the peak of your experience will come sooner than it would by simply chewing dried shrooms. In terms of duration, a trip that would normally last 6-8 hours will be shortened to 4-6 hours and you'll start feeling the psychedelic effects within 10-45 minutes as opposed to the typical 30-90 minutes mark.
Some people want the effects of magic mushrooms to come on quickly, while others find the slow build-up more manageable. If you've never lemon tek'd before, the quick come up may be feel too much to handle. This leaves no room for adjusting or getting used to the psychedelic experience. You should ease into the experience so there are no surprises.
A Warning For Those With A Sensitive Stomach
Those with a sensitive stomach might experience some acid reflux when lemon tekking. If you want to reduce the chances of having any gastrointestinal problems, fast for 3-4 hours before hand. Just be aware that fasting can make the experience more intense. In addition to fasting, pay attention to your diet in general a few days before taking the lemon tek mushroom trip. Eat healthy foods and avoid alcohol.
Psilocybin can also increase your blood pressure, so if you have any sort of heart condition or high blood pressure, it's best to play it safe and avoid lemon tek altogether. 
Lemon Tek Benefits
The reported benefits of lemon tekking are:
Accelerated onset effects: Converting psilocybin into psilocin outside of the body leads to a more rapid uptake time.
Shorter trip duration: Some psilonauts see this as beneficial, while others may view it as a negative. Because the conversion has already happened, psilocin is able to take effect more quickly in the body.
Better Taste: If the prospect of eating dry mushrooms doesn't sound particularly appetizing to you, making a thick, lemony shot out of them instead definitely improves the taste.
Decreased nausea: According to some psilonauts, the acid in lemon juice breaks down chitin, which are cell walls found in magic mushrooms. This is one of the main reasons why some people experience nausea after consuming shrooms. If you're someone who suffers from severe nausea, drinking mushroom tea might be a better option for you as it doesn't contain any chitin.
How to Make Lemon Tek
If you're sold on the idea of lemon tekking, making it is actually pretty simple.
Lemon tek Instructions
What You'll need:
The main component on course: your dose of psilocybin mushrooms or truffles. It is recommended for inexperienced users to begin with half a dose.
1-2 lemons per dose. You can also use organic lemon or lime juice.
A cannabis or coffee grinder. A blender would also do the job.
Coffee filters or a cheese cloth. (optional)
A shot glass
Water (optional)
If you have your items ready, you can follow these steps:
Grind your mushrooms into fine powder.
Pour your powder into a shot glass.
Juice your lemons or limes, pour the liquid over the mushroom powder and ensure that the powder is entirely covered.
Let the mixture to sit for 15-20 minutes. Stirring the mixture occasionally will help to prevent it from sticking to the pot.
(Optional)  After juicing the mushrooms, filter the mixture through paper or a cheesecloth to get rid of any solid residue. Though this method might lower the intensity of the juice's flavor, it can also help reduce nausea.
(Optional) Add water to your concoction. This will improve the taste and allow you to savor it more fully.
Cheers! If you want to get the full effect of your lemon tek, then drink it quickly. If you're looking for a strong and fast come-up, this is just for you.
FAQ (Frequently Asked Questions)
Can I use lime instead of lemon?
Yes! The main thing is the pH of the juice.
How long will it take for the effects to kick in?
The general consensus among psilonauts is 10-45 minutes.
How long will the lemon tek trip last?
The average psychedelic experience will last 4 to 5 hours.
How long to soak for Lemon tek?
15-20 minutes.
Which psilocybin mushrooms can I use?
There are many popular mushrooms species you can get get your hands on. However, psilocybin cubensis is one of the most widely circulated indoor strains, and probably the most common shroom species to lemon tek. For those who want to explore other species, here's a list of the strongest psilocybe cubensis strains.
So there you have it—everything you need to know about Lemon Tekking your magic mushrooms! We hope this guide has helped clear things up for anyone who was curious about this trendy new method of taking shrooms. Just remember, when in doubt, it's always better to err on the side of caution!
Disclaimer:  Psychedelic Spotlight does not condone the use of illegal substances. The purpose of this article is for educational and harm reduction purposes only. If you suffer from a medical or mental condition, please consult with your doctor before taking any substance.